Obstetric Delivery Bed
Electric obstetric bed function:
Height adjustment range:600 +20 mm / 920 ±20 mm

Back Section Raised from the horizontal≥50 ± 5°

Leg section opened:0-90°

Leg up adjustment:0-45°

Reversed Trendelenburg: 10±5°

Trendelenburg:10±5°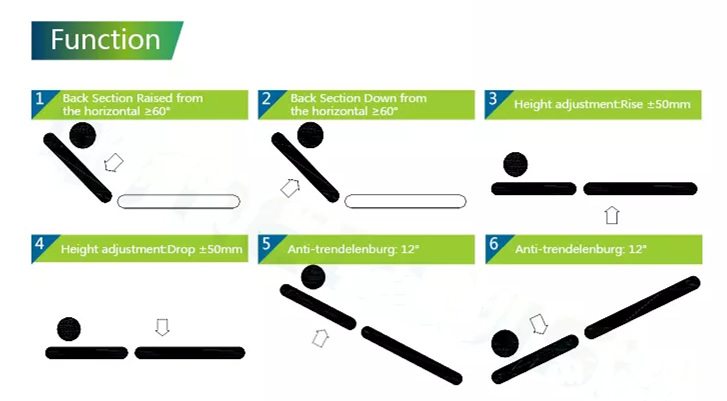 The overall steel structure is pre-treated with epoxy powder.
The obstetric delivery bed has 3 sections which features height-adjustable, side rails angle indicator, Trendelenburg and revers function available.
This obstetric delivery bed is designed for easy operation of trauma of giving birth with various functional and adjustment position available.
It comes together with an electric hand set controller, changing and adjusting the position or configuration of the obstetric bed is achievable with a push button on hand set in few seconds.
Delivery Bed specifications
Overall Length:2020±50 mm

Width: 1020±50 mm

Safe Working Load: ≥150 kg

Guardrail safety work load: 250 N

Bed frame : steel with epoxy coating

security work load: 225 N

Salt water bottle rack safety work load 50 N

Handle safety work load, 

294 N leg support

safety work load 294 N

Net weight: 160Kg
Standard Accessories
ABS bed headboard x1

ABS side rails x2

Infusion rod holes x2

Drainage hooks x1 

Leg holders x1 

Diameter 125(±2)mm individual brake castors x4

Handrails(side rail) x2 

Operating handle x1 

Instrument tray x1 

Mattress x1 

Dirty basin x1