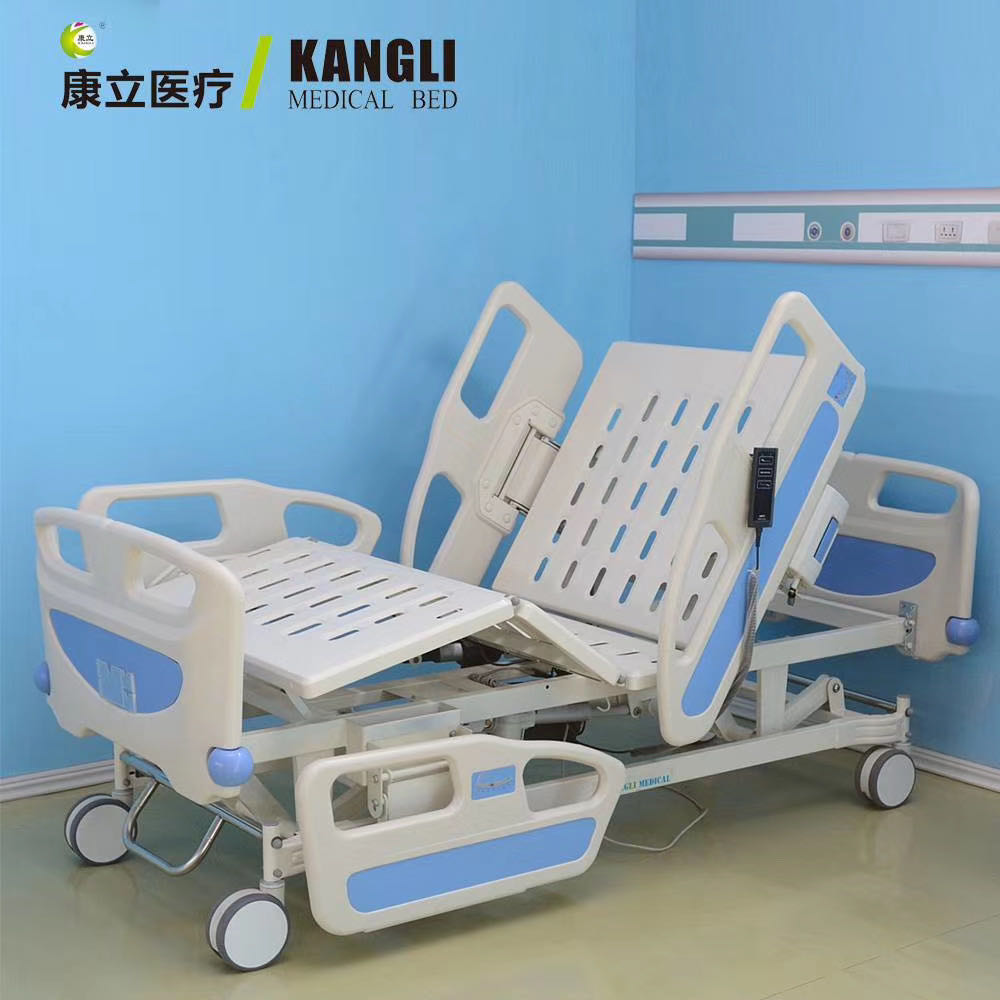 A basic standard electric ICU bed features the adjustment of back, knee, Trendelenburg and revers, whole high and low position for patient need.
Most of the clients are concerned of ICU bed for the followings details
| | |
| --- | --- |
| MATERIAL : MILD STEEL FRAMEWORK | YES |
| TREATMENT : ZINC-PHOSPHATE WASHING | YES |
| FINISHING : EPOXY POWDER COATING | YES |
| DIMENSION : L2150 x W1000 x H480-700 mm | YES |
| NET WEIGHT : 120 kg | YES |
| LOAD CAPACITY : 250 kg | YES |
| CASTER DIAL. : 125 mm/150 mm twin castors with center locking. | YES |
| FEATURES : | YES |
| HI-Lo, backrest (85°) & footrest (45°), auto-countor and trend(12°) & reserve trend(12°) operated by linear actuator. | YES |
| Manual CPR quick release lever and button at hand set | YES |
| Optional with nurse control and nurse lock at foot end | YES |
| 4 pcs PE side rail with marginal gap and backrest with degree indicator | YES |
| Complete with back-up battery. | YES |
| Ventilated 4-panel mattress base | YES |
| ABS molded head and footboard, 4 pcs PE side rail | YES |
| 1 unit of IV pole with 2 hooks with 4  IV pole provision attachment at 4 corners. | YES |
| Complete with drainage bag holder at both side | YES |
| Corner bumpers to protect body frame | YES |
A standard ICU bed specification
Overall Dimensions
L2150mm*W980mm*H 480 mm-700 mm
Hospital Bed Frame
Perforated power coasted steel
Hospital Bed  Weight
120 kg
Hospital Bed Platform
MS perforated platform with ventilation hole
Loading Capacity
250 kg
Electric Bed Voltage:
110V/60Hz
Packaging Box
L2000mm*W1000mm*H500mm
Available Functions
Backrest lifting angle
0-85°
Knee-rest lifting angle
0-45°
Reverse and Trendelenburg
15°±2°
Hi-lo adjustment between
480 mm-750 mm
Manual CPR function and One-key CPR function With Back battery, one set
Standard Accessories
1 pair
Detachable ABS head & footboard
1 pair
ABS all surrounded tuck away side rail with angle indicator
5 Motor
Linak Denmark actuators
4 pieces
6" (150 mm) Deluxe Castor with central breaking system
1 Set
Braking Pedals
1 PCS
Nurse Controller
1 PCS
Handset Controller
4PCS
IV pole socket
4PCS
Drainage bag hooks
Adjustment of ICU hospital bed position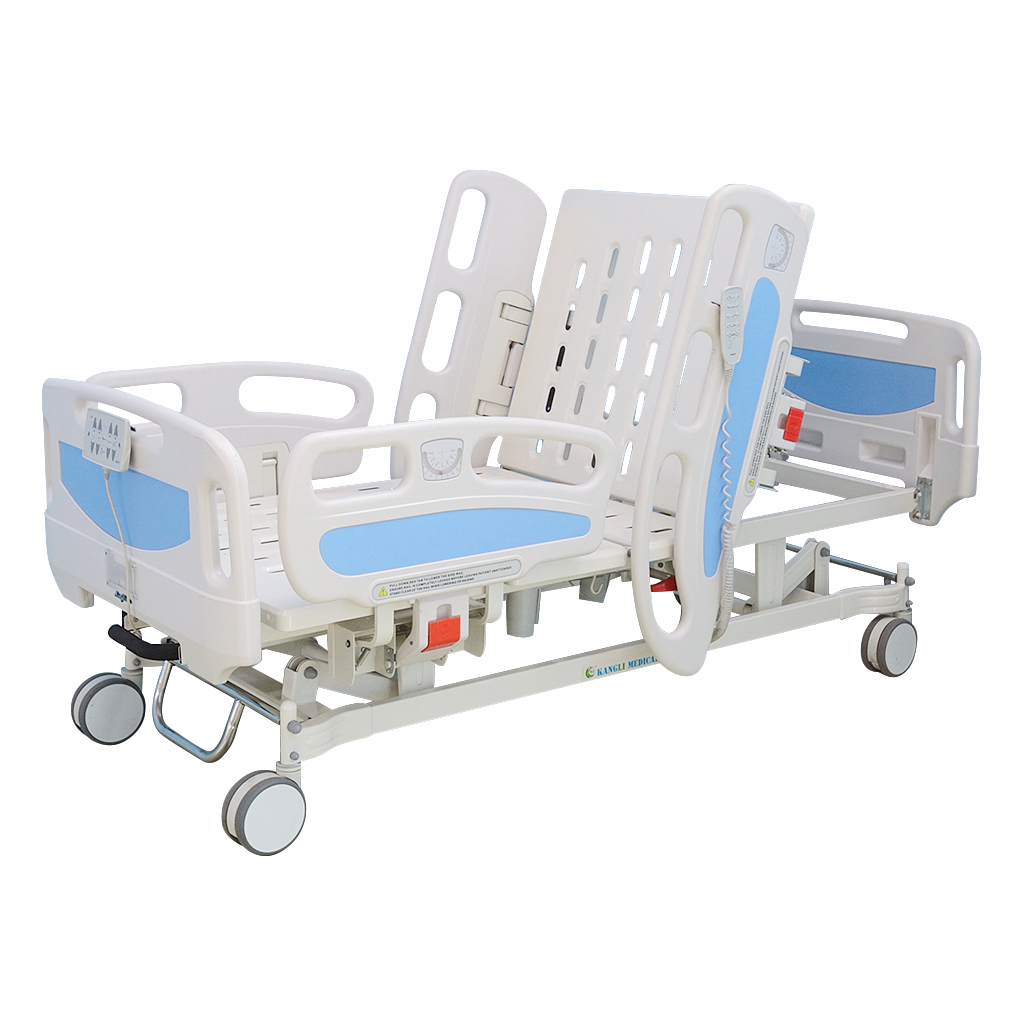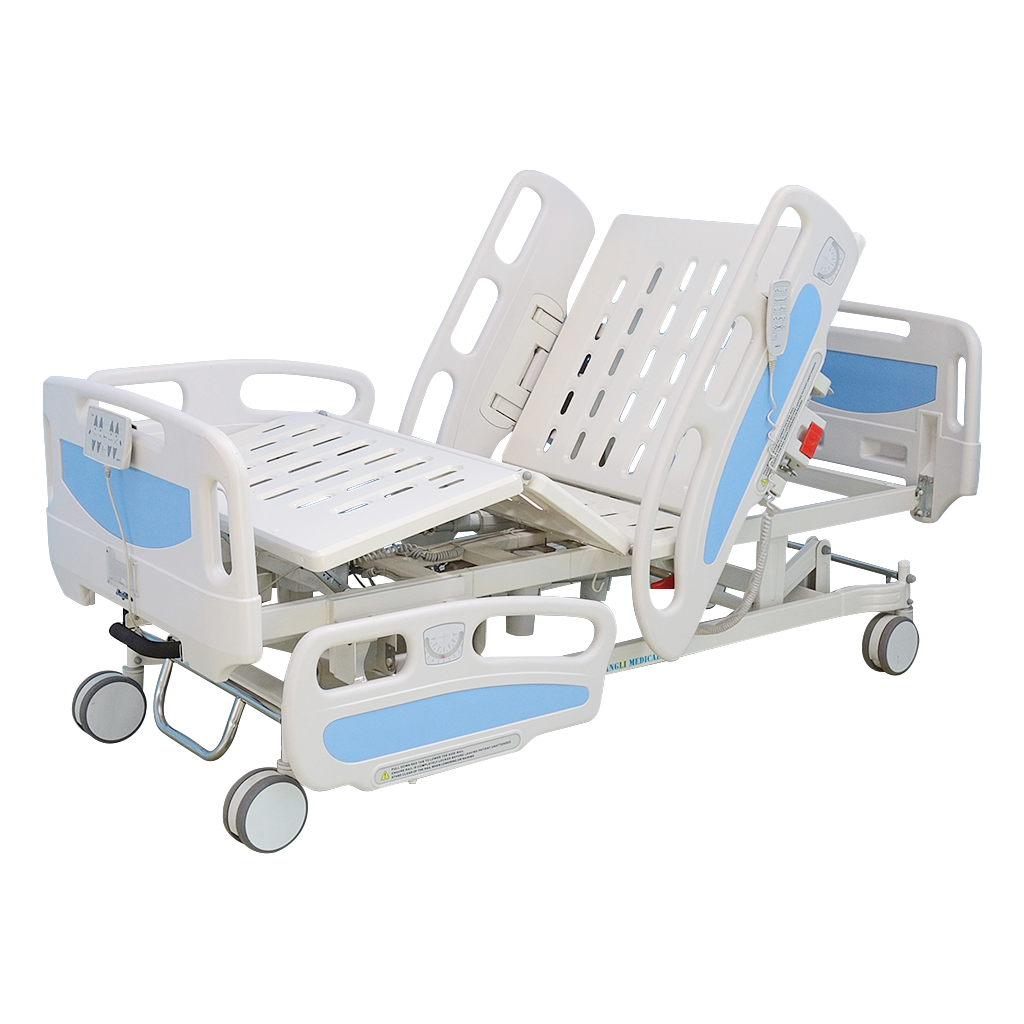 High and low position integration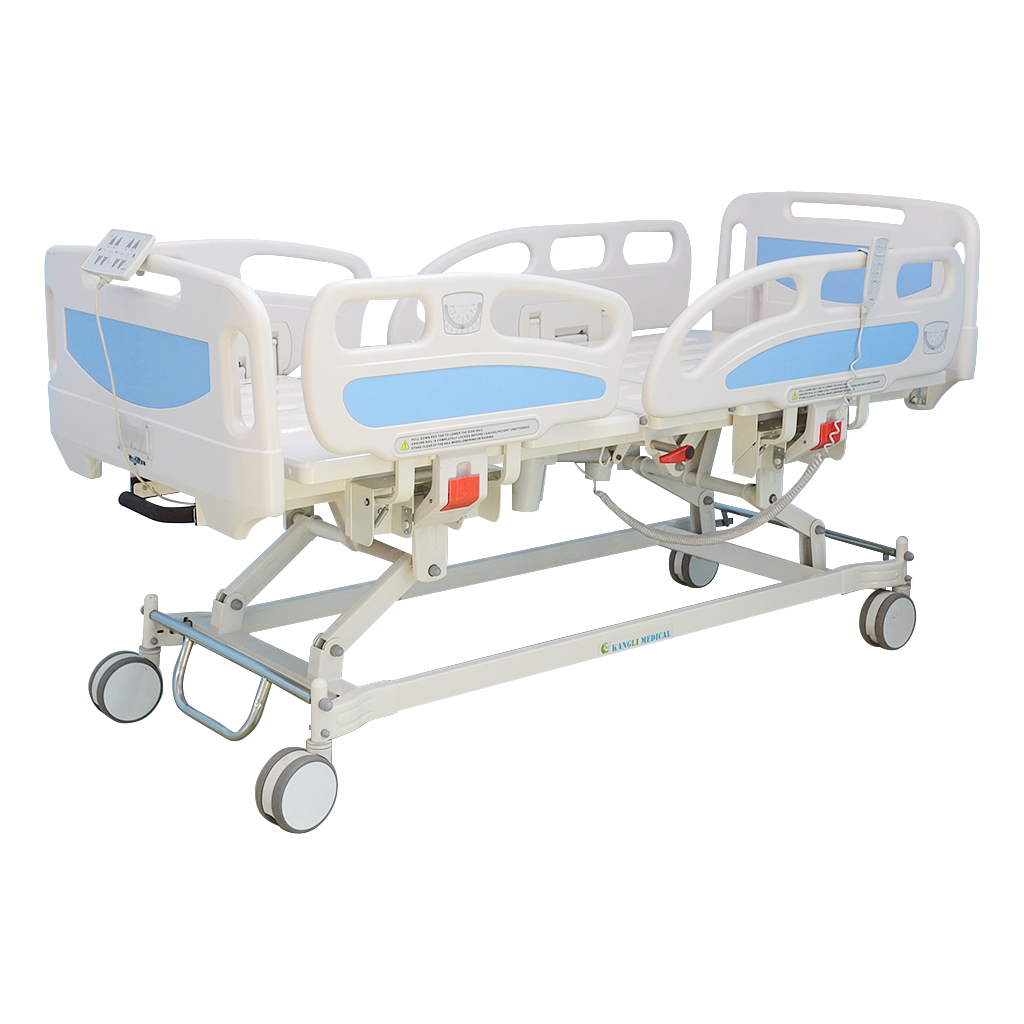 Trendelenburg and reverse position on ICU bed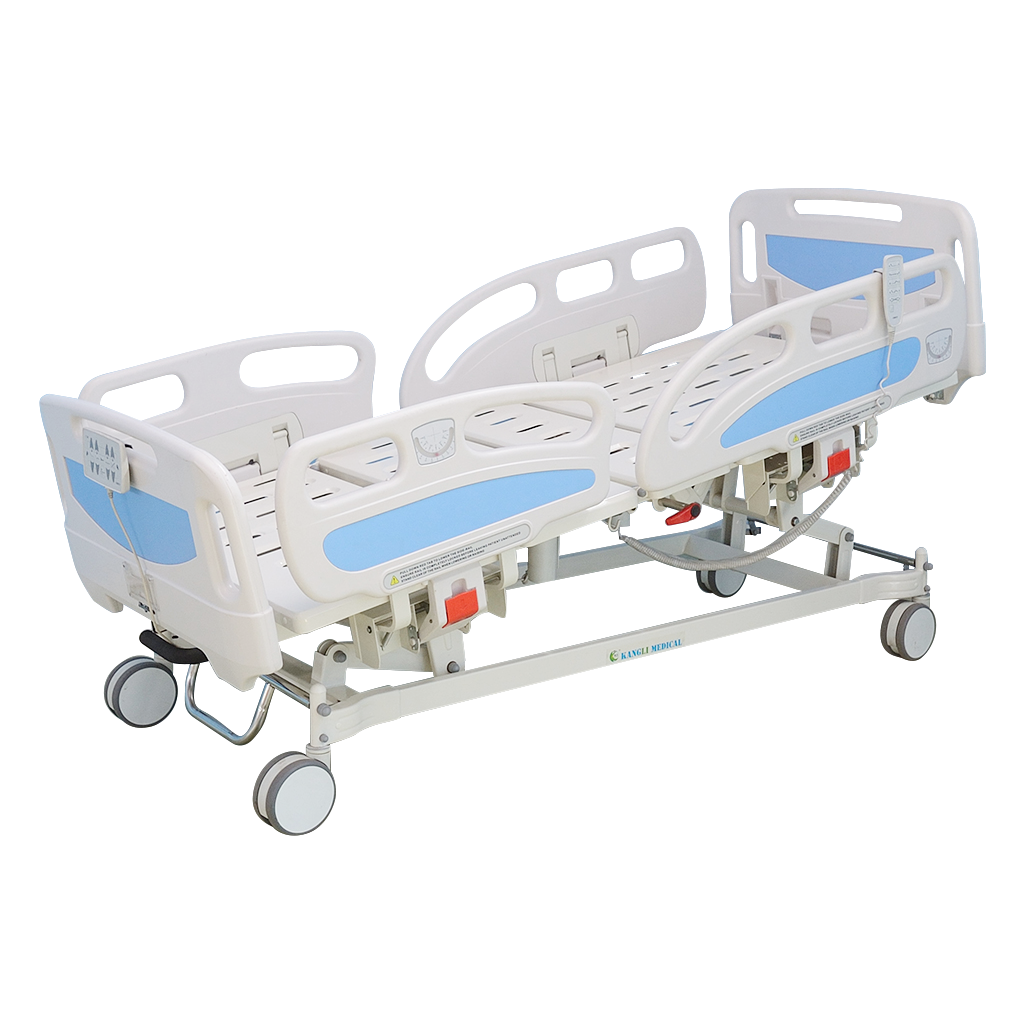 A standard ICU bed manual user for doctor reference
Electric five-function bed ICU user guide
Overview

Purpose: To assist families and medical institutions in nursing patients!

Basic specifications

Input voltage: 100~240VAC

Output voltage: 24VDC
Length of bed: 2150 mm

Bed width: 1050 mm

The height of the bed surface: minimum: 500 mm maximum: 770 mm

The length of the bed surface: 1930 mm

Bed width: 900 mm

Bed weight: 135Kg
The lifting angle of the back: 0~85°±5°

Leg lifting angle: 0~45°±5°

Lifting stroke of the bed body: 350 mm

The tilt angle of the bed: 0~±15°±5°
Safe load: 240Kg max

Waterproof rating: IP54

Electromagnetic compatibility: Comply with EN60601-1-2 regulations

Intermittent operation: do not exceed 6 minutes per hour

Environment (use/transport/storage)

Temperature: 5℃-40℃

Humidity: 30%-85%RH
Seven, drive and control unit
Screw controller: It can control the drive of the screw and has the function of battery charging. After the battery is installed, it can still be used when the power fails;

Drive screw:
For back lifting: thrust 3000 N, stroke 150 mm, with quick release and recovery function;
For bed lifting: thrust 6000 N, stroke 150 mm, with recovery function;
For retreat lifting: thrust 3000 N, stroke 100 mm, with recovery function;
Handle controller: wired, can be hung on the guardrails on both sides, can independently control the bed surface and bed body lifting;

Nurse's desk controller: wired, can be hung on the foot of the bed and the guardrail, can independently control the elevation of the bed surface and the bed body, can lock each drive screw separately, and it cannot move;

Battery: input voltage 24VDC; output voltage 24VDC; capacity: 1.3AH;

Material and accessories

Bed frame and bed plate: Q235 steel pipe and steel plate, electrostatic powder spraying.

Head and foot of the bed: ABS material, blow molding, four corners are equipped with anti-collision wheels;

Guardrail: Four-piece two-stage design, retractable under the bed surface, ABS material blow molding, safe operation handle;

Casters: Four-wheel brake, two-wheel type, wheel diameter 150 mm, load 100Kg;

Drainage hook: made of round steel bars, one on each side;

Infusion stand socket: 2 at the front and back;
Nine, instructions for use
Guardrail
1.1. Ascend: Hold the upper handle of the guardrail, lift it up, and hear a "click" sound, indicating that the guardrail is in place and locked;
1.2. Lowering: Hold the upper handle of the guardrail, pull the blue lock switch on the guardrail bracket, and lower the guardrail under the bed;
Lifting controller
2.1. The buttons of the controller are of membrane type, slightly raised, and their functions are as follows: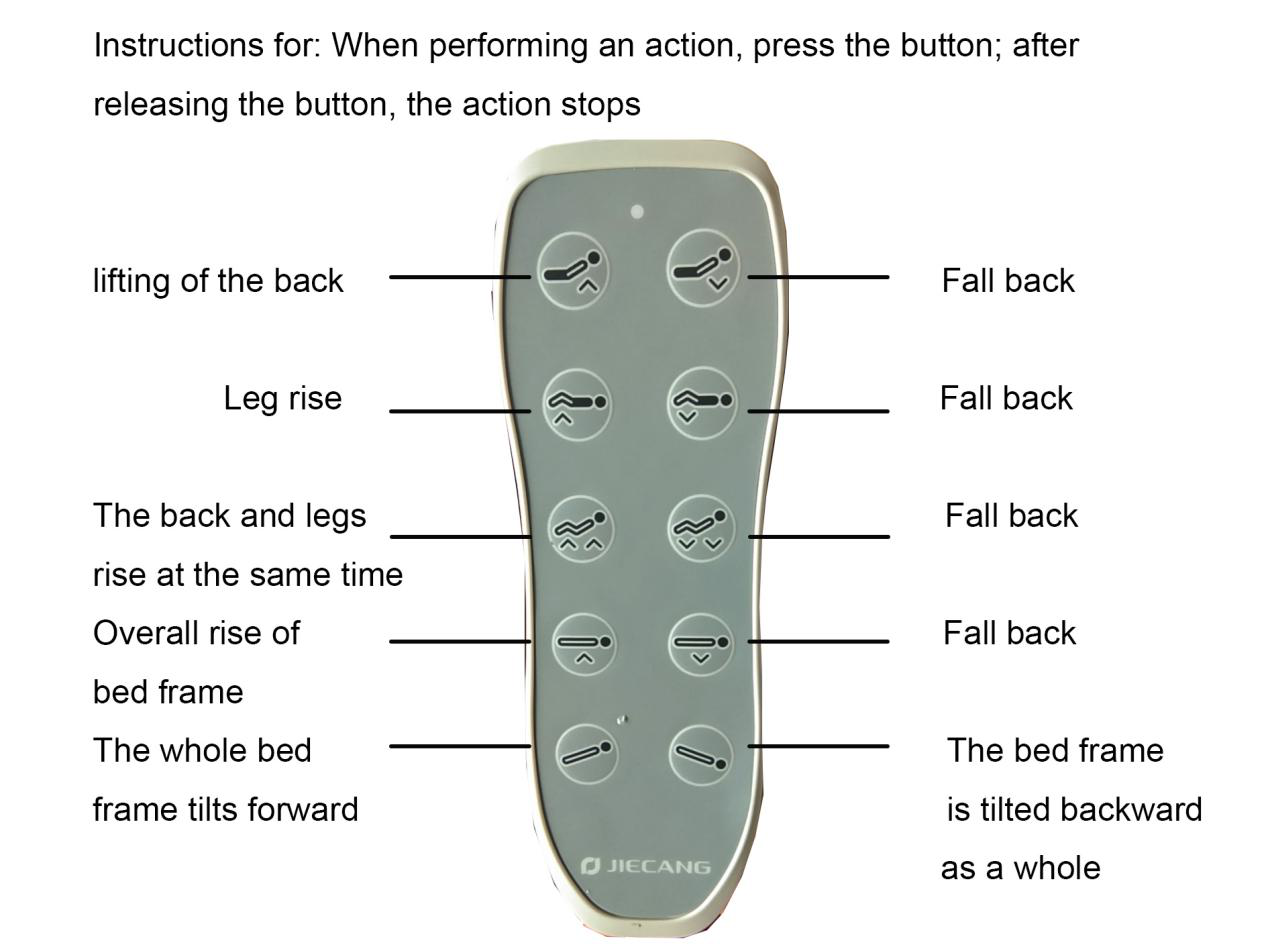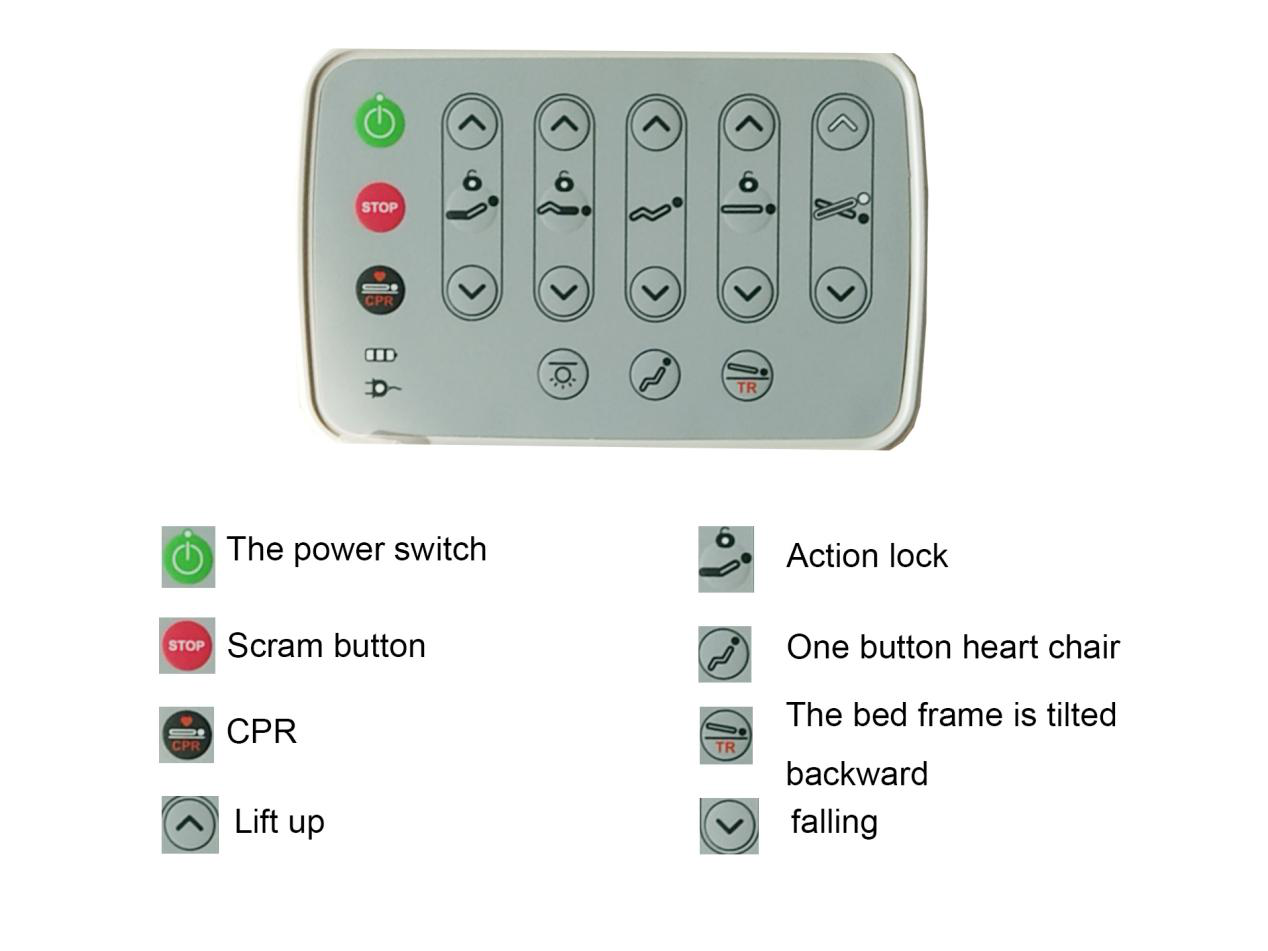 Head and footboard
3.1. Disassembly: Lift the upper hook lock of the head and footboard hook up, hold the handle on the head of the bed with both hands and lift it up;
3.2. Installation: align the head and footboard hooks with the left and right wire nails of the bed frame, insert them downwards, and put the hook lock down when in place;
CPR rod
4.1. Installed on both sides of the back under the bed board, silver handles;
4.2. In an emergency, please pull the clasp out to the apex. The back bed will be lowered to a horizontal state within 3-4 seconds, and the clasp will return to its original state after releasing the clasp.
Daily cleaning

Plastic material part
1.1. Wipe with a dry cloth or a cloth wrung out of moisture.
1.2. It can be wiped with a neutral detergent (PH6-8).
1.3. It can be wiped with less than 95% alcohol.
1.4. Gasoline and chemical cleaning are prohibited.
1.5. It is forbidden to bake, and avoid sun exposure.
Steel paint part
2.1. Wipe with a dry cloth or a cloth wrung out of moisture.
2.2. It can be wiped with neutral detergent (PH6-8).
2.3. It can be wiped with less than 95% alcohol.
2.4. Bleach, gasoline, and chemical cleaning are prohibited.
2.5. Do not wipe with emery cloth.
Matters needing attention

Please properly store the power cord when the bed is moving or traveling to avoid collision, rolling, and electric shock.

Non-technical personnel are forbidden to disassemble or repair the screw controller and junction box to avoid electric shock.

It is forbidden to disassemble the fixing bolts of the load cell.

Waste treatment
After regular maintenance or overhaul, please dispose of the waste in the following order
3.1. Steel material: Recycle and reuse according to the waste metal disposal method.
3.2. Plastic material: According to the Arabic numerals in the triangular recycling mark of plastic material and the material description below, it is classified and recycled for use.
3.3. Waste batteries: According to the recycling and disposal methods of waste products and containers, they will be handed over to the recycling organization for disposal and shall not be disposed of at will. Please keep it properly before recycling to avoid pollution caused by leakage of waste liquid.
Warranty period
Except for damage caused by man-made reasons, the product warranty is 1 year;
Package details as followings:
130 kg/set;
1set/package,7 layers high strength paper carton;
44set/40 ft container.