There are many clients from oversea inquiring a paramount hospital bed features several high standard specification these days.
Some of clients are the country of finance and strategic execuation purchasing department director,they express great sincerity to our company to handle the tender document positively,as there is no right hospital bed supplier who can complete the project with good supply chain and ability of completion of order in time.It takes burden time for client to find us to complete the hospital bed project.
We study the tender hospital bed specification,our original design fully meet the tender document technical at 100%.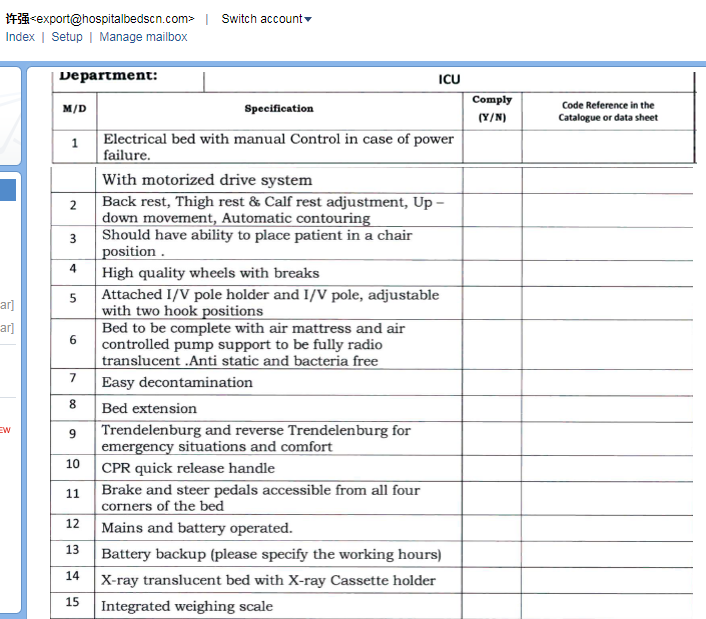 The electric icu bed specification contains some list of tough requirement as followings:
1,the No.14 X-ray translucent bed with x-ray casstte holder;
2,the No.15 integrated weighing scale.
If the electric icu bed achieve the above function,the electric icu bed needs to be mounted on the telescopic column,which have larger space for the X-ray function on the backrest.

What is more,to display the function of weighting scale,we adop the dentmark original linak actuor motor,which need the complex computer programing to realise the patient weighing scale in specific number.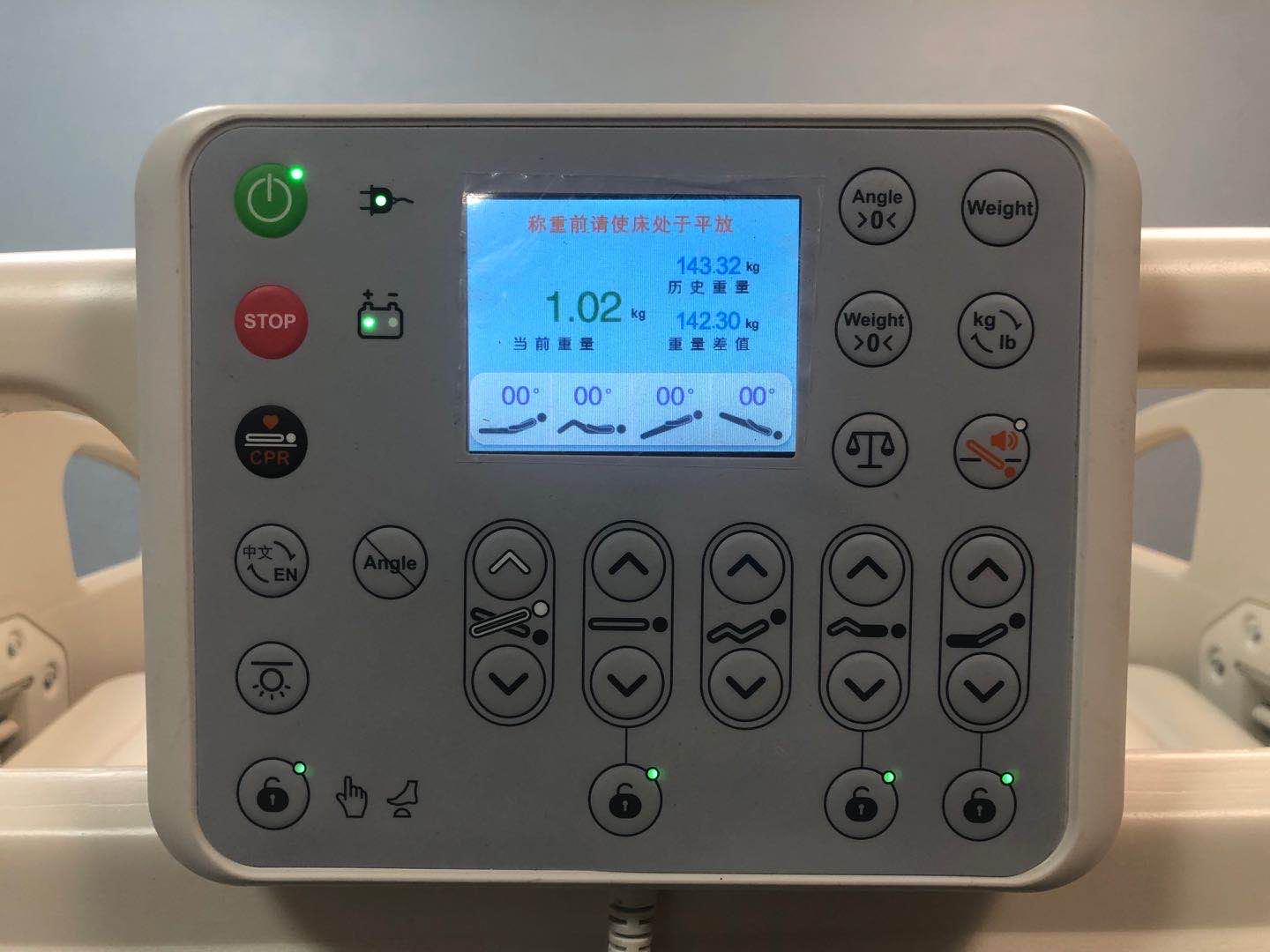 Ours final design details of paramount icu bed in real image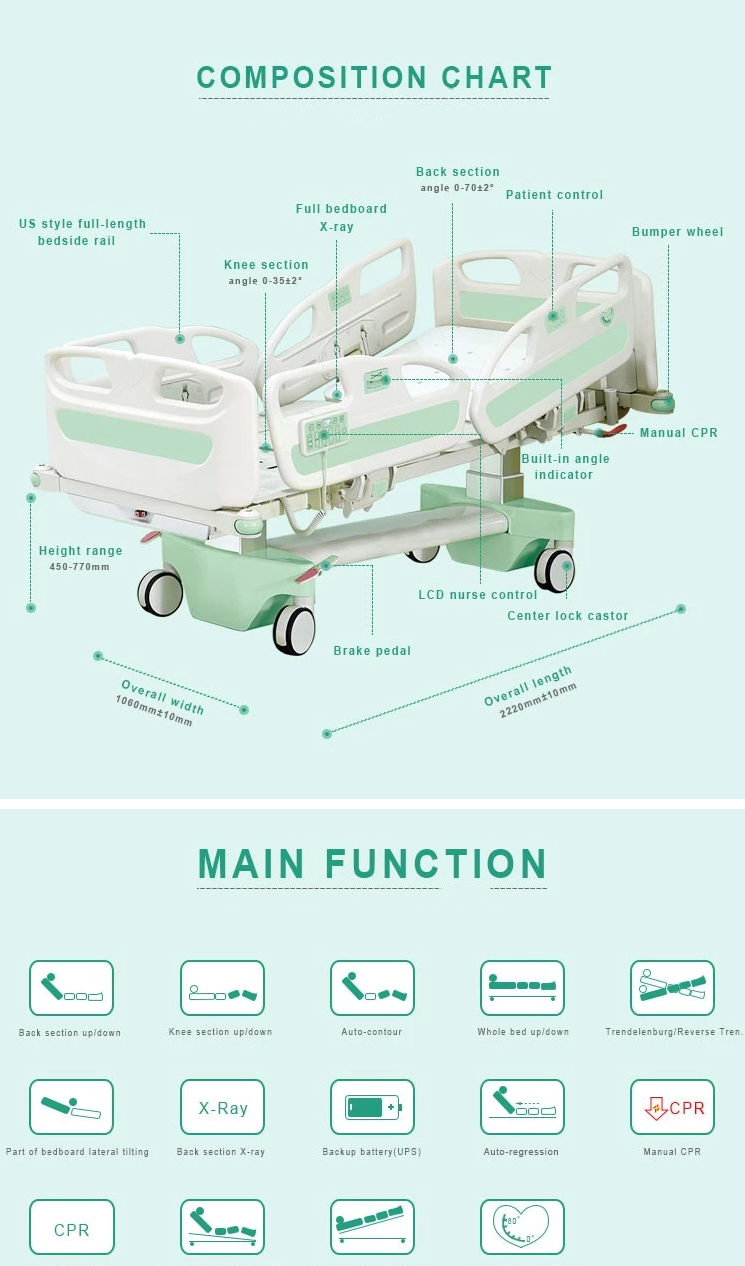 As a high-end ICU bed,It is an ideal bed for critically ill patient or long-term care patient.
As a multifunctional intensive care bed,it can provide various positions via operating the nurse controller or the side-rail controller,ensuring the patient can be treated safely and effortlessly.
Selecting superior raw materials with advanced production process such as robot welding,double layer electrostatic painting process make the bed environment-friendly,and long service life.
Selecting world leading Linak brand actuators make the bed smooth operation and increase the patient's comfort.
Products features:
1,Linak actuator: As the world's leading brand which effectively ensured the safety of the bed and the stability of the operation.Especially the high-end column actuator makes the operation more smooth.
2,LCD nursing controller: Displayed the real-time angle and weighting,provide various functions,help caregiver adjust the patient positions in need.
3,Unique side rail design: Protect patient safety and reduce the risk of entrapment.
4,Central locking castor: Easy to move and noiseless.
5,Electric CPR and Manual CPR: Guarantee the bed can be quickly flattened at any conditions.
Multifunctional electric ICU bed(Five motors) Technical data
Mattress platform size:(1960×850)±10mm
External size:(2190×995)±10mm
Height range:(530-850) ±10mm
Back section angle:0-72°±2°
Knee section angle: 0-36°±2°
Tren./Reverse Tren.angle:0-13°±1°
Main function
A. Back section up/down
B. Knee section up/down
C. Auto-contour
D. Whole bed up/down
E. Trendelenburg/Reverse Tren.
F.  Auto-contour
G. Auto-regression
H. Manual quick release CPR
I. Electric CPR
J. One button cardiac chair position
K. One button trendelenburg
L. Angle display
M. Backup battery
N. Built-in patient control
O.Under bed light
P.LCD Nurse master controller
We present our solution,we offer the final confirmation of the above result that we are competent to complete the project according to the hospital bed tender document.Finally clients express a great satisfactory to our endeavor.
Paramount icu bed video demonstrates the adjustment function.
1,electric iuc bed trendelenburg and revers
2,electric icu bed knee up and down
3,electric icu bed back up and down
The above one icu hospital bed is complicated,most of the clients will also consider the regular hospital bed which have the icu feature such as the trendelenburg and revers adjustment with better prices.
We have design one better prices of icu bed according to clients tenders specification.It is clear that the local government does not have abundant financial budget.With our technician talent smart design,the final regular hospital bed have the icu bed feature,it is also within the budget domain.
Specification as followings:
Technical features
YES
NO
External dimensions, including side accessories:

maximum length – 2200 mm

width – maximum 920 mm

YES
Manual bed with the following features:

back support 0-75˚

knee support 1 – 35˚

height adjustment 450 – 730 mm +/- 10mm

Trendelenburg and Trendelenburg reversed – at least 12 degrees

YES
Patient surface made of at least three adjustable sections
YES
Platform with tight surface that can support a load of minimum 250kg
YES
The mattress surface should be constructed in such a way as to provide the patient with the best possible stability
YES
The bed platform ensures a higher ergonomic level for patient comfort, respectively:
YES
• Ensuring the best pulmonary ventilation
YES
• Reduce the risk of eschars
YES
• Highest comfort for the patient
YES
The bed frame is made of epoxy painted stainless steel,  antibacterial tested
YES
The material from which the plastic components are manufactured is ABS
YES
Surfaces should be tight to ensure cleaning and disinfection as easy as possible
YES
Beds head panels provided with safety lockers
YES
L-shaped foldable side rail with a height of 350-400 mm
YES
Side railing anti-impact to ensure patient safety
YES
The bed is provided with 4 holes at its ends for assembling the infusion holder
YES
The infusion holder made of stainless steel is fitted with 4 adjustable hooks to support a minimum weight of 10 kg
YES
The bed should be provided with 2 hooks for hanging drains.
YES
The bed corners must be provided with a removable absorbing(damping) system for maximum bed and patient protection during transport.
YES
Bed head provided with a pocket for inserting a patient identification tag.
YES
The bed is provided with a transfer pushing handle and pedal for central wheel lock
YES
The bed must be fitted with 4 wheels with a minimum diameter of 150 mm, pivoted 360 degrees, minimum 2 wheels with a locking system
YES
The bed must be fitted with 4 wheels with a minimum diameter of 150 mm, pivoting 360 degrees, minimum 2 wheels with a locking system.
YES
Our technician complete each listed items and finally make the real smart hospital bed product as followings:
A type of manual hospital bed with 4 crank is to realise the function adjustment of back,knee,whole high low and trendelenburg & revers.
Video demostration the simple hospital bed features of icu function