Paramount electric hospital bed
Based on the 5 function electric hospital bed, this hospital bed frame is mounted on the two telescopic column together with the back translucent x-ray section.
Hospital bed function
This paramount ICU bed can achieve the following function:
A. Back section up/down
B. Knee section up/down
C. Auto-contour
D. While bed up/down
E. Trendelenburg/Reverse Trendelenburg
F. Back section X-ray
G. Auto-regression
H. Manual CPR
I. Electric CPR
J. One-button chair position
K.one-button Trendelenburg
L. Angle indicator
M. Backup battery
N. Patient weight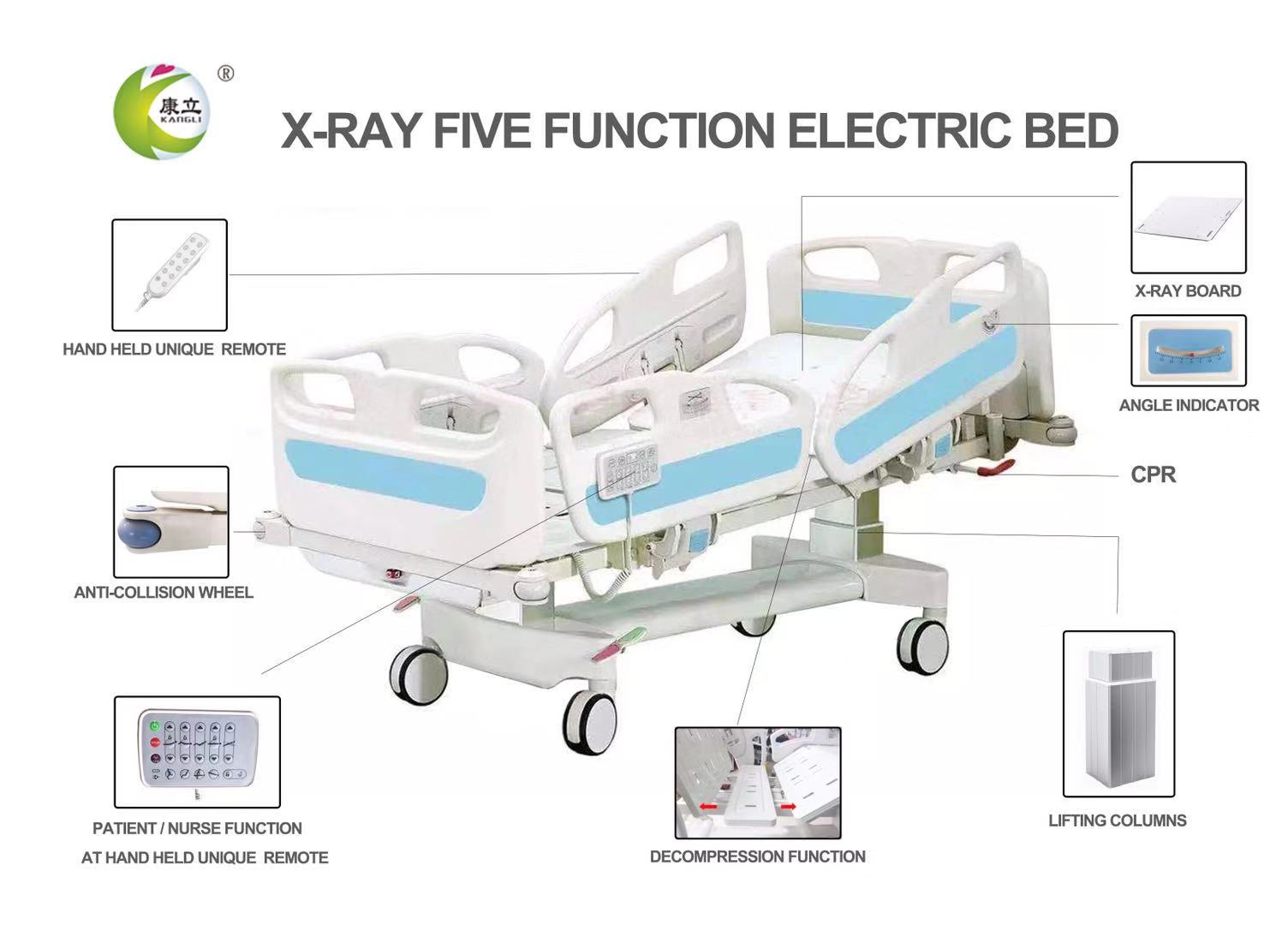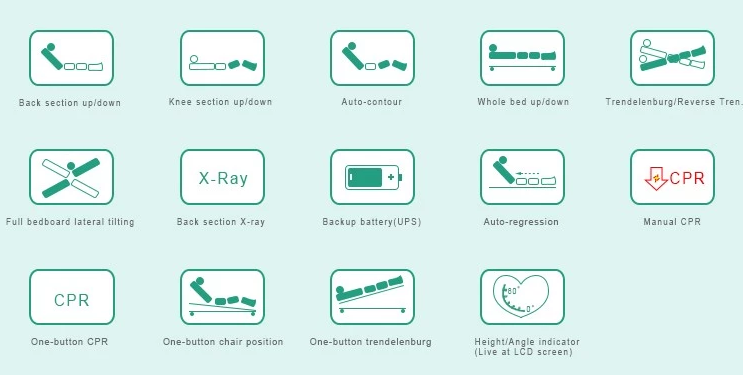 Telescopic column mounts on the hospital bed for adjustment function;
central locking brake pedal.
LCD the hospital bed adjustment function on nursing board.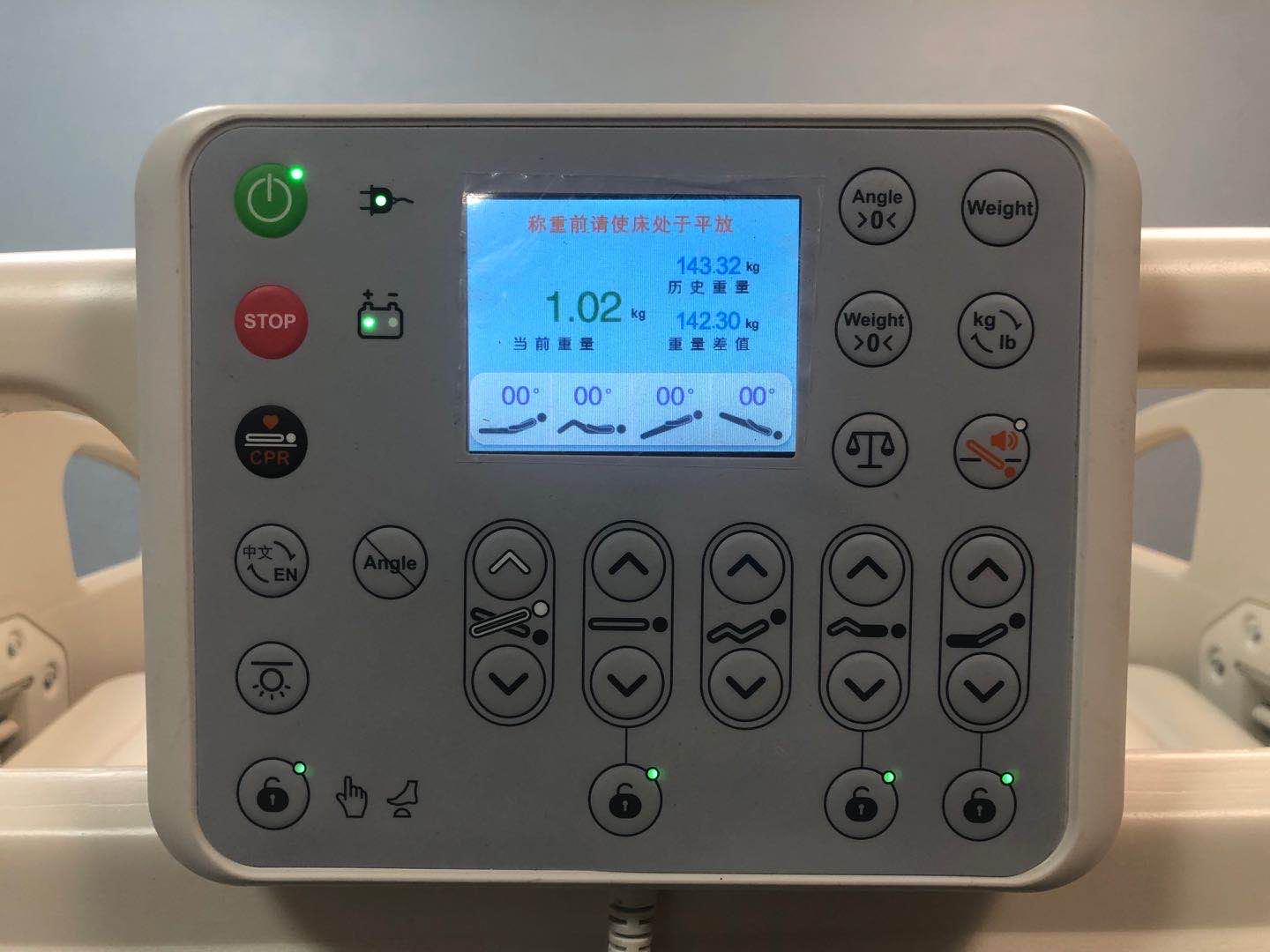 Hospital bed accessories
Standard accessory
 Optional accessory

Head and footboard

2pcs

S.S IV pole

Bedside rail

4pcs

Bed extension

Nurse control

1pc

Lifting pole

Patient control

2pcs

Writing table

Angle display

4pcs

Oxygen cylinder holder

Lifting column actuator

2pcs

Instrument tray

Actuator

2pcs

Under hospital bed light

Backup battery

0pc

Backup battery

Buffer

4pcs

Drip hole

4pcs

Urine hook

4pcs

Lifting pole hole

2pcs

Mattress retainer

1pc

Electric cable holder

1pc

6 inches central lock castor

4pcs

Braking pedal

2pcs
Paramount ICU bed main function video demonstration:
1,Back up and down
2,Knee up and down
3,Trendelenburg and revers position