SEMI ELECTRICAL HOSPITAL BED FEATURE
Hospital bed adjustment is 3 function:back, knee and integral up & down. When battery power is off or without access to electricity, the hospital bed can be achieved in the adjustment function by hand crank.
Mainly key feature of the semi electric hospital bed as followings: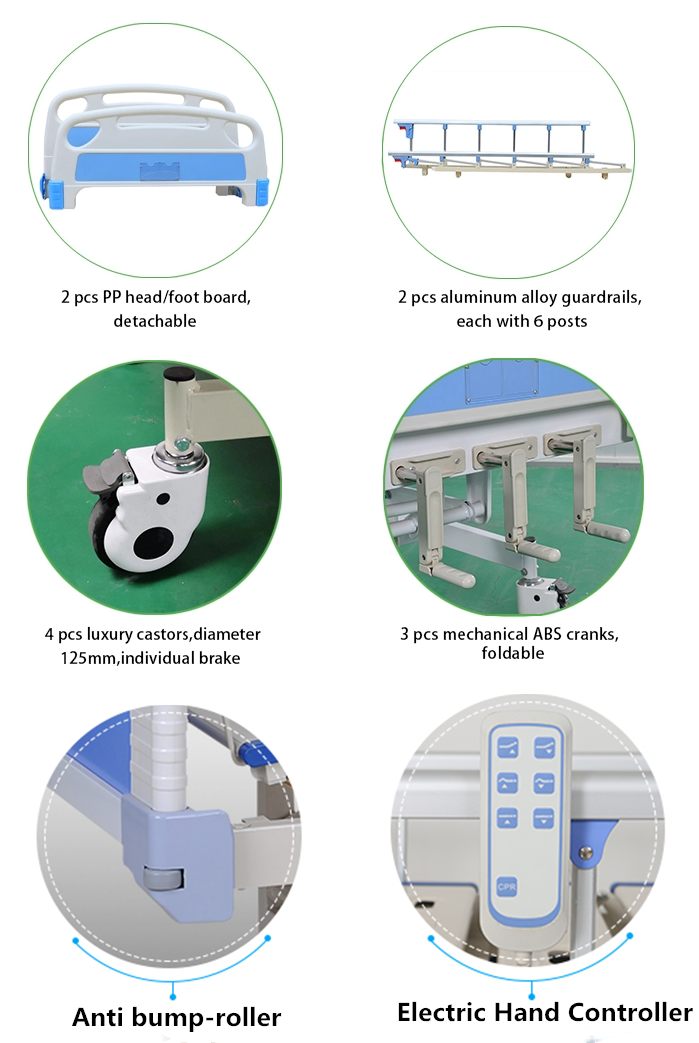 (1.0)         Unit shall function as an electric and manually adjustable patient bed.
(2.0)         Unit shall include, but not be limited to, the following features and characteristics:
(2.1)         Epoxy coated steel frame or equivalent material.
(2.2)         Dimensions approximately 220 cm L  x  110 cm W.
(2.3)         Capacity approximately 400 lbs.
(2.4)         Patient and caregiver side rail control.
(2.5)         Capability of Fowler or contour(zero gravity) positioning.
(2.6)         Capability of adjusting bed height up to approximately 740 mm.
(2.7)         Manual crank must be capable of back, knee, Fowler and height adjustments.
(2.8)         Full length retractable side railings.
(2.9)         Rubber bumpers at headboard.
(2.10)     I.V. pole and holder.
(2.11)     Mattress sized to fit bed, with washable non-porous material.
(2.12)     Lockable castors.
(2.13)     Operate on 110V or 220 VAC, 50Hz.
(2.14)     Battery backup.
(2.15)     Conform to ISO or equivalent standard.
(2.16)     Minimum one-year warranty on parts and service.
(2.17)     Manufacturer demonstrate that they have produce beds for a minimum 10 years.
(2.18)     Manufacturer's manual user in English.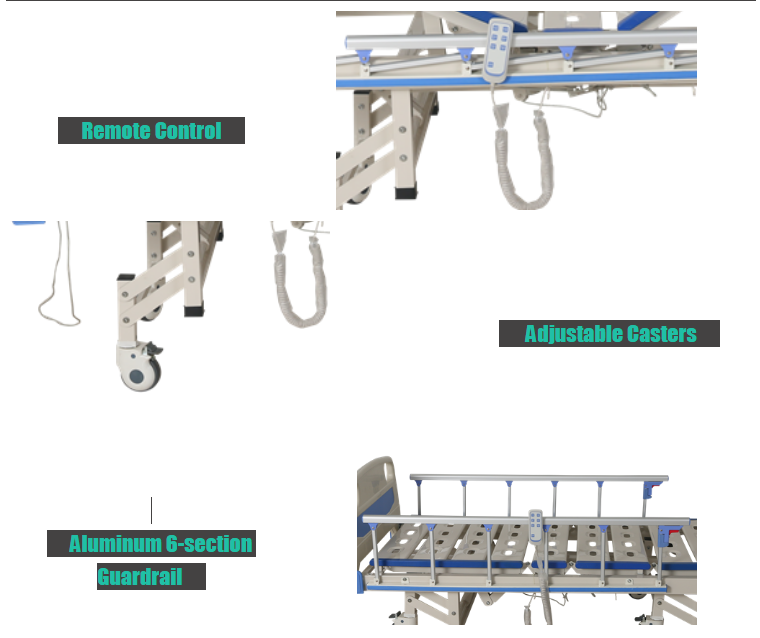 Specific Characteristics
Steel Frame Epoxy Painted;
Detachable compound ABS head and Foot Boards;
Support Mattress Platform: metal sheet;
With side rails Aluminum Alloy, collapsible and practical;
With shoes holder on the bed bottom;
IV Pocket; 4 (one on each side);
With patient name holder at foot and head part
Optional Accessories
Adjustable or retractable IV Pole (4 hooks);
Hospital over bed table with adjustable heights;
Dining table;
IV stand;
self-help handle
Parameter
| | |
| --- | --- |
| Product Name | Hospital Bed Electric Semi |
| Size(mm) | 2150*1100*480-760 mm |
| While bed up/down | 480-760 mm |
| Bed Board | 1900*900mm |
| Back section lifting angle | 0-75° |
| Leg section lifting angle | 0-40° |
| Used | Hospital, Clinic, Home |
| Standard | ISO 13485,CE |
| Weight Load | Up to 220 kg |
| Function | 3 Functions:Back, Knee, Height Adjustment |
| Bed Frame | Superior cold-rolled steel |
| Handrails | Collapsible aluminum alloy Side Rail |