About Anyang top Medical
Anyang Top Medical is a subsidiary of Kangli medical equipment technology development co., Ltd. It is a Top hospital bed manufacturer in China. Its reputation has grown rapidly and is represented at the forefront of domestic medical exhibitions. Kangli designs and manufactures a series of electric hospital-style beds that is a little different from a hospital, which is special for the paralysis or suffers complete the hospital nursing and recovery health in the home.
Kangli has shown it's committed to supplying quality hospital beds by acquiring ISO and European CE certifications. It has expanded its wings, not only does it distribute to the Asian market but also the European market. This shows that the hospital beds are a trusted brand.
Mission/ Vision
Anyang Top Medical devices Co. Ltd seeks to provide users with medical care bed solutions.
It aims at supplying and manufacturing quality and sustainable hospital beds.
Manufacturing Process
Anyang is well equipped with equipment and machinery that support the manufacturing of powerful beds. They have embraced technology and innovation which has enabled the development of different designs as well as allowed manufacturing in bulk order. Manufacturing of the Hospital beds goes through the below process to ensure that they supply quality products.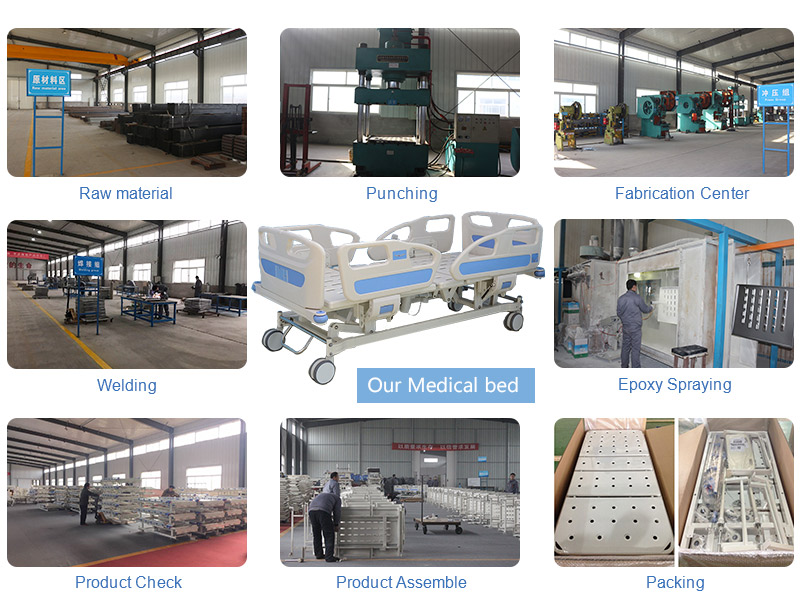 Raw Material

Punching

Fabrication center

Welding

Epoxy spraying

Product check

Product assemble

Packing
This process is followed in the book, and there is an in-house quality check conducted to assure production of quality beds. The factory is involved in the production of a wide range of beds which are; a series of full-electric hospital beds, manual hand crank hospital beds, electric ICU beds, paramount hospital beds with x-ray function, hospital nursing bed, and electric adjustable bed base for home. All of these products' specifications can be added and reduced function according to customer tender or local hospital bed requests.
Managing Distribution
They have approved distributors who have been assessed and qualified as approved distributors of the Hospital beds. Kangli is one of the distributors of the hospital beds, they have established long-term contracts with different hospitals. Delivering quality beds is a top priority for the distributor, as well as observing the lead time as agreed with the client. The distributors have been able to develop a mutual agreement with the clients, which has led to the establishment of a partnership relationship with hospitals.
Why would you choose to buy this Manufacturer?
Websites and articles sometimes might bring out the best in a product, but in reality, this is not the case. This article, however, features and helps you visualize the Anyang Top Medical Hospital beds and why you should decide to buy from them.
Quality Oriented
The beds undergo through the different process before it is ready for dispatch. Good quality materials have been sourced to ensure the final product meets the standard. During the process, quality checks are frequently conducted to confirm the quality is on the check. To add some topping to it, the factory is ISO Certified and is committed to producing high-quality materials.
State-of-the-art equipment
The factory that manufactures the hospital bed is in China and as you are well aware, China is a developed country when we talk about innovation and technology. The factory has invested in equipment used in the manufacturing process as there are sufficient and available resources. The state-of-the-art equipment guarantees the production of high-quality hospital beds.
Innovation and Technology
The factory has developed and embraced technology in its process. They have come up with new and advanced hospital beds that are suitable and efficient to the users. A good example is the electric beds, which are operated automatically.
Good Reputation
You can say that again. Setting an image out there is hard, but once the word comes out you will shine. Anyang Top Medical devices Co. Ltd has built its name and the hospital beds are a trusted product by its customers.
Supplies of the European Market
Getting into the European market is hard as there is often an ambiguous requirement that is expected for suppliers to comply. Once they have approved you to be a supplier, it means you are fully compliant and therefore can reach out to their market. This also is evident that the factory has met their legal, safety and quality standards.
Customer and Solution Oriented
Anyang Top Medical devices Co. Ltd is fully committed to serving the customers and through innovation, they strive to ensure that they manufacture solution-based hospital beds. It cares for its Customers. A good example is designing a home-based hospital bed that would make the patient still feel comfortable even after coming out of the hospital.
Open-door Policy
Anyang Top Medical devices Co. Ltd has embraced an open door policy and has invited customers to their site to come and witness the manufacturing process. They have also held showcase forums where they showcase the hospital beds and gives them a chance to interact with the customers as well as answer some burning questions.
Tonnes of Experience
Anyang Top Medical devices Co. Ltd has been in the hospital manufacturing beds for quite some years. It has evolved gradually from the manufacturing of the old traditional beds to the new advanced automatic electric beds. It is well vast with experience and has mastered the art of manufacturing quality, innovative, and well-designed hospital beds.
Conclusion
By now, you have realized hospital beds are not just any hospital bed. Anyang Top Medical devices Co. Ltd realized this and decided to work on a solution to improve the status of the hospital and also contribute to the quick recovery of patients. They have a wide number of distributors who reach out to Hospitals and another home-based clients to ensure that they get the beds. It has increasingly grown its market and in a few years to come, it shall be a global distributor. It aims to use technology and innovation to continuously improve the quality of hospital beds.