Difference between an ICU bed and a regular hospital bed
Every Hospital has a hospital bed, but not all have an ICU bed. Intensive Care Unit beds are special beds used by patients in critical conditions. An ICU bed is considered special because they assist medical staff to react and provide treatment quicker in an emergency. A regular hospital bed cannot be used in place of an ICU bed. So to understand these two types of beds, you need to know the specifications and features of each bed. Let's have a look.
Hospital bed types?
ICU bed — Descriptions of ICU beds tend to vary, it's believed that any bed used in an Intensive Care Unit is referred to as an ICU bed. However, the Department of Health and social care tend to disagree with this description. It has a deeper explanation of what an ICU bed is.
'It is an electric bed that attains chair and Trendelenburg positions and is fitted with a pressure-relieving mattress.
Electric bed — An ICU bed should be operated automatically and not manually. The patient should be able to control the movement of the bed with control panels without necessarily requiring a nurse.
Offers Cardiac chair and Trendelenburg positioning — This is an important feature as it facilitates respiration, and it aids circulation for the body to function properly.
Has pressure relieving mattresses — It is intensive care, so the patient should be comfortable and have a mattress that relieves pressure. The best mattress to be used is the foam and replacement air mattresses.
Regular Hospital Beds — A regular hospital bed can be manual, or semi electrical. They include normal hospital beds that you see in any hospital. It is mandatory to have these hospital beds in a hospital facility. Most times, a regular hospital bed is operated manually. Patients who use the regular hospital bed are not in any critical condition and can be able to position their bodies, which means they do not necessarily need a fully automatic bed. The regular hospital bed comes with fewer features as compared to the ICU bed.
Hospital Bed Sizes and Weight
A regular hospital bed has a standard size and can be compared with a twin-size bed. It is normally 80 inches long and 36 inches wide. This size cannot be able to stand patients with much weight. It is however recommended that beds should be designed to suit the patient's weight that eases movement. The ICU bed is typically a typically bariatric hospital bed that offers both a higher weight capacity and larger dimensions. The bed mattresses also accommodate different sizes and weights.
3. Hospital Bed Accessories.
There are two types of accessories, optional and non-optional accessories, in a hospital bed. The ICU bed has more accessories than the regular hospital bed because it's fully automatic and patients are in the intensive care unit. These accessories contribute to the patient's recovery process as well as make them feel comfortable. The regular bed does not contain so many accessories because the patient is not in a serious condition.
Different Hospital Mattress Types
You will often be given an option to choose the type of mattress to go with your hospital bed, the standard types being either foam or innerspring. However, many other types are used for different conditions or for avoiding bed ulcers. These specialized mattress options include alternating pressure relief mattresses and low air loss mattresses. For ICU beds, the main priority is to get a good, suitable, and comfortable mattress to protect the wellbeing of the patient. Regular hospital beds also offer good mattresses, however, the mattresses in a regular bed are standard and not adjustable to the size of the bed.
The Level of Care.
In any hospital, patients are normally classified with different levels of care or different intensity of treatment. The levels include Level 0 to Level 3. Patients in Level 0 are not in serious condition, and they can be treated in a regular hospital bed. Patients in Level 1 are recovering patients from levels 2 and 3, whereas patients in Level 2 &3 require intensive care support, and therefore they cannot be treated in a regular hospital bed, so they require an ICU bed. The Medical or levels of care will determine which type of bed the patients will use. Hover the overall goal of these two types of beds is to help medical staff to react and provide treatment quicker in an emergency.
ICU and Regular Hospital bed Price
A regular hospital bed and ICU bed vary in price. This is contributed by features and accessories on the bed. However, the ICU bed is normally expensive compared to the regular hospital bed. The ICU bed has features and characteristics that support the patient during the conditions. It is designed to allow medics to act quickly in case of an emergency.  
Home care
The best suitable hospital bed to facilitate the patient's recovery is the ICU hospital bed. A patient can recover comfortably in their home. The hospital bed home use is designed to suit the home and also to allow movement of the patient. This can be operated at home by a hired nurse or a caregiver.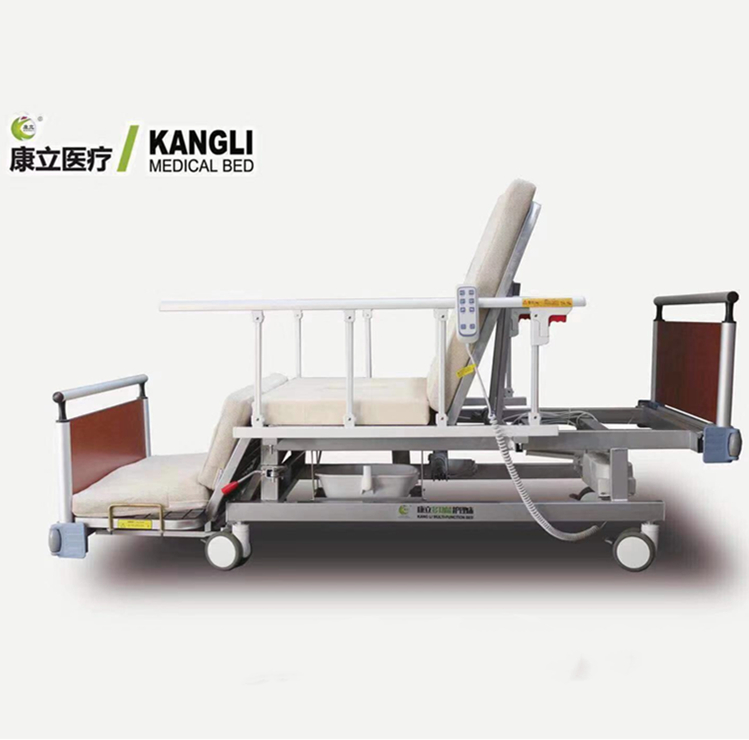 Adjustable and Versatile
Most ICU beds are electrical beds, and they normally come with remote control. Often, if the bed doesn't come with a remote, it can be purchased separately. The remote control allows for adjusting the head and foot sections. However, with a regular hospital bed, the height of the bed must be adjusted manually, which gives the caregiver a lot of work.
Electrical bed
The ICU bed is fully electrical, which means that all adjustments are made by electronic control with a remote. When there is a power outage, the bed cannot be operated manually unless it came with a backup battery. This poses an advantage to the regular hospital bed, they are not fully dependent on electricity as they can be operated manually.