Top Hospital Furniture Manufacturer In China
Anyang Top Medical is a manufacturing company that makes quality hospital beds and supplies them in hospitals at an affordable price. To guarantee its clients quality beds, Anyang has embraced having a team that has the expertise and skills of ensuring that they offer the best quality products. It has a wide range of electric hospital beds which includes; electric hospital beds, manual hospital beds, ICU hospital beds, hospital nursing beds, home care beds, hospital furniture, electric adjustable bed base, etc. To assure our clients and also show commitment to producing quality beds, Anyang Top Medical has attained a certification on Quality Management System (ISO 9001) as well as ISO 13485 that ensures customers and professionals are safe in clinics and hospitals.
Let us have a look at some hospital furniture products they offer and Features
ICU electric hospital beds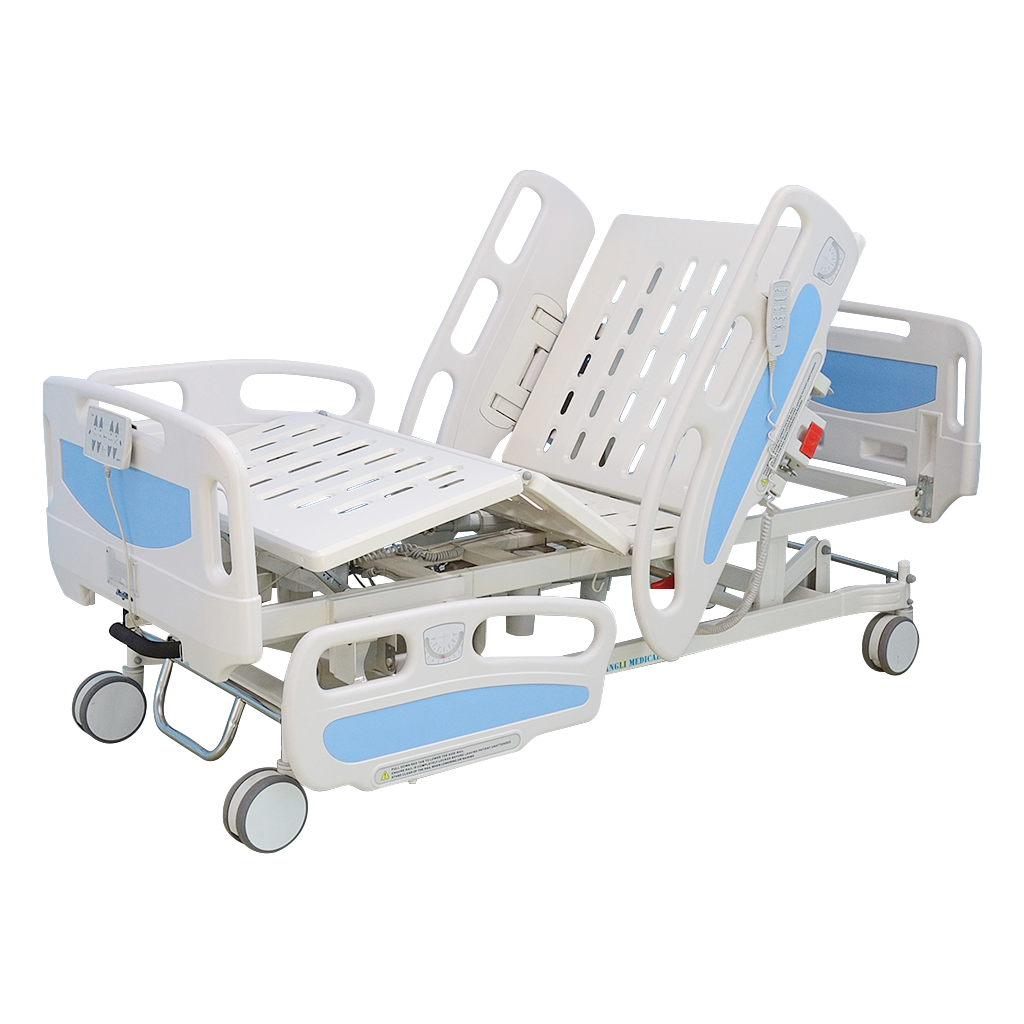 The Intensive care unit electric hospital bed has been designed to take care of the patient, the caretaker, and the doctor attending to the patient. It has special features that allow swift movement with no disturbance or interference.
The ICU bed position features:
Back support 0-75˚
Knee support 1 — 35˚
Height adjustment 450 – 750 mm +/- 10 mm
Trendelenburg and Trendelenburg reversed — at least 12 degrees
The ICU electric beds are designed to purposely protect the safety of the patient, therefore it is equipped with a world-leading brand-powered motor-Original Denmark Linak.
Feature of the ICU bed
Back up & down;

Knee up & down;

Integrated overall up & down;

back and knee up and down adjustment together;

One-key CPR;

Tuck away hospital beds side rails design;

Trendelenburg and reverse of Trendelenburg;

Drainage hooks on both sides;

Epoxy coated mild steel framework;

Removable high-quality ABS head and end panels;

Noiseless luxury castors with the central braking system;

Powered by branded medical application of actuator,3 years of guarantee;

Optional: incorporated infusion pump.
The function of electric ICU bed demonstration
Hand Control — This encompasses Back up & down, Leg up & down, Leg and back up and down, Integral up & down, one key CPR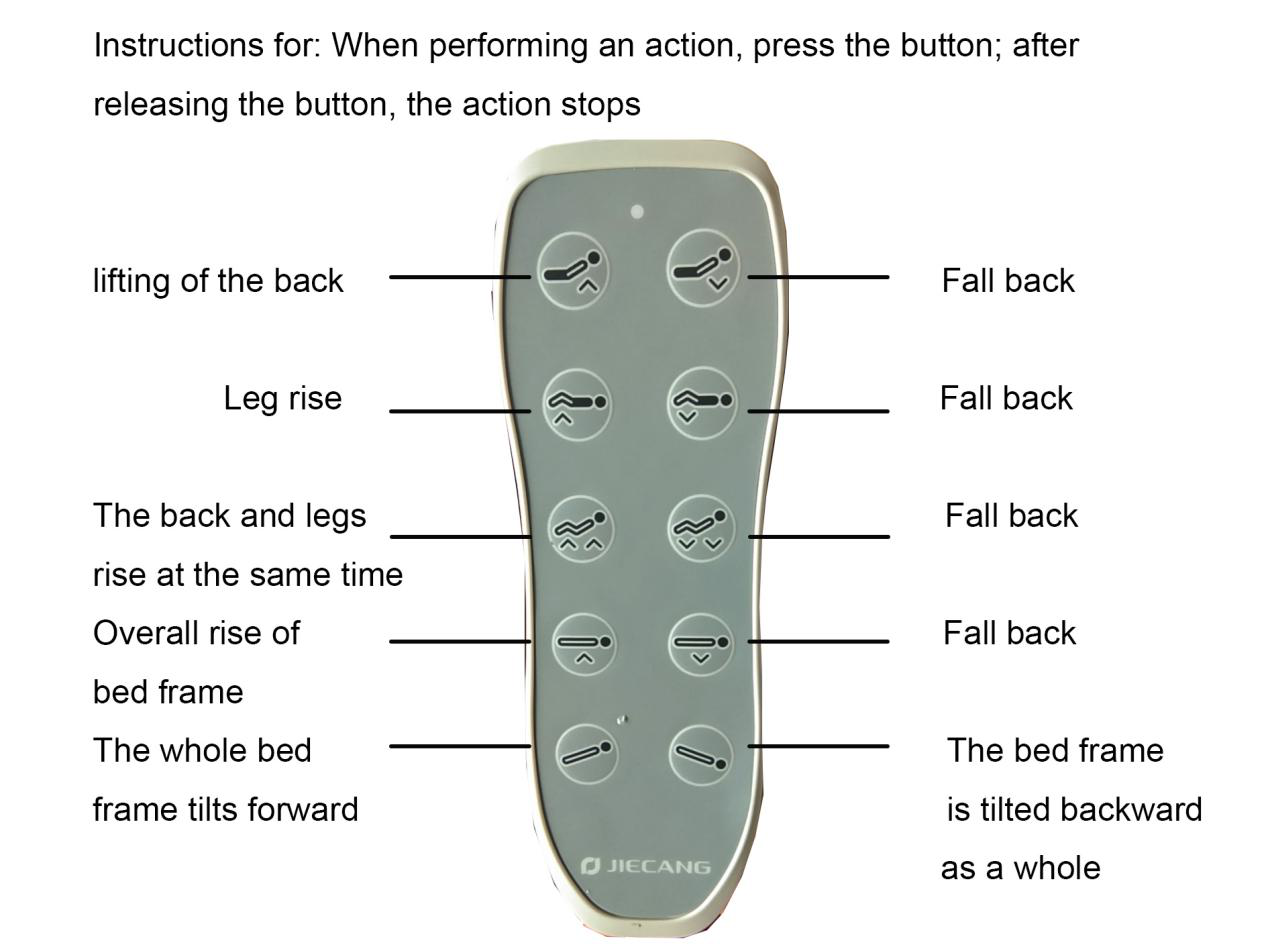 Nurse Control — It contains 10 control buttons which include, switch, stop, One key CPR, Back up and down, Leg up and down, Leg back up and down, Integral up and down, Back and front tilt, One key heart chair, One key Trendelenburg lying position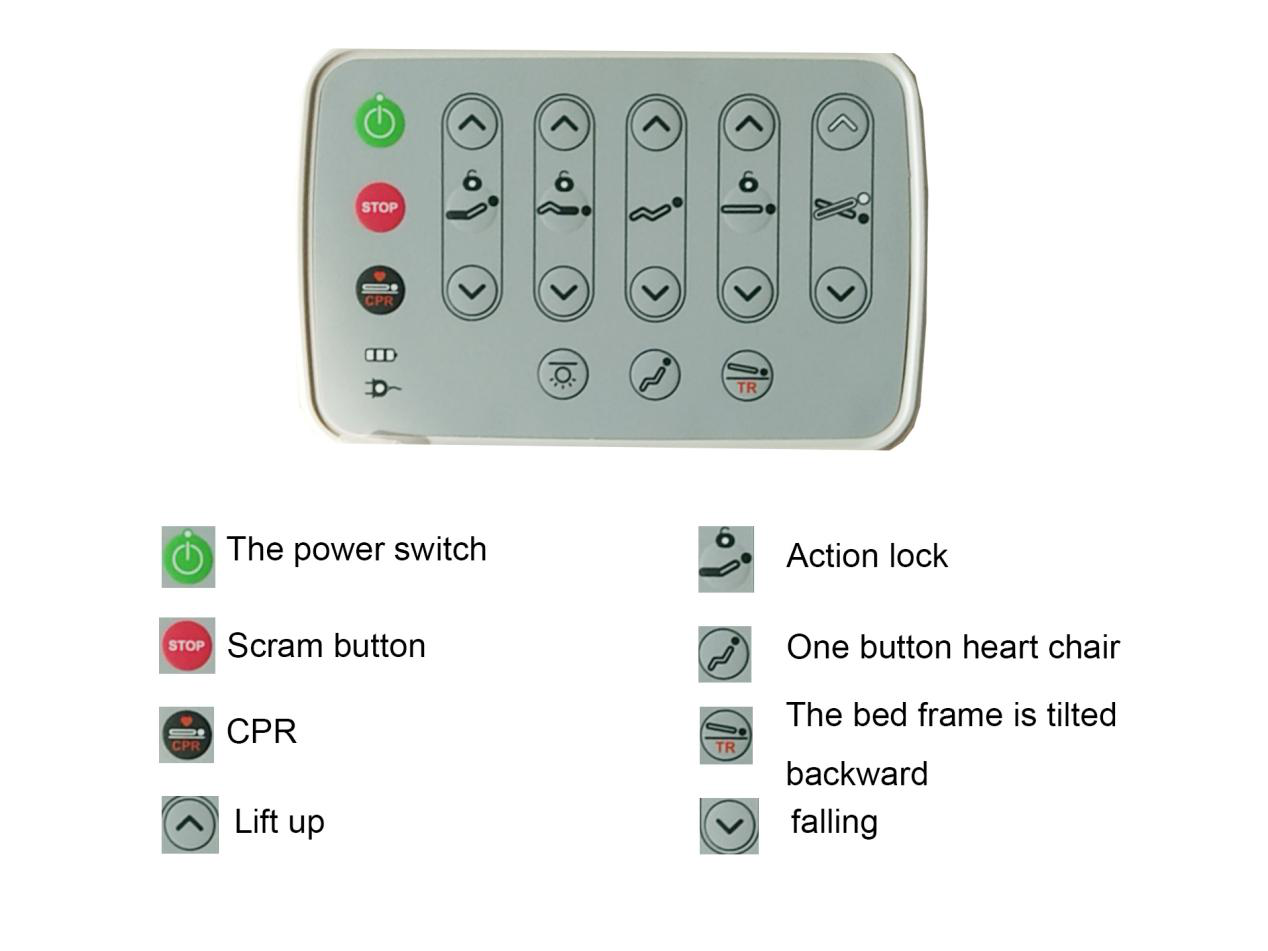 Manual Hospital beds
As denoted by the name, the beds are manually operated. Manually hospital beds are shocking of high demand as they do not require electricity to be used. For a long time, most hospitals have used manual beds and there are best known for their durability and best to be used after a surgeon. Like the electric beds, there are three adjustable cranks in the manual bed, the knee, back, and overall height of any hospital bed.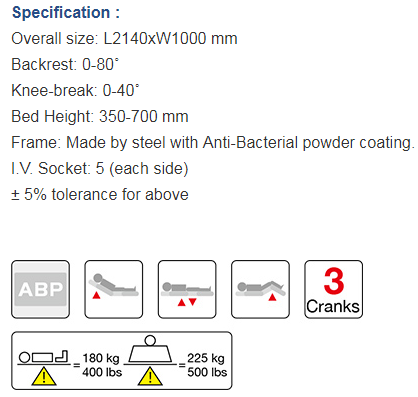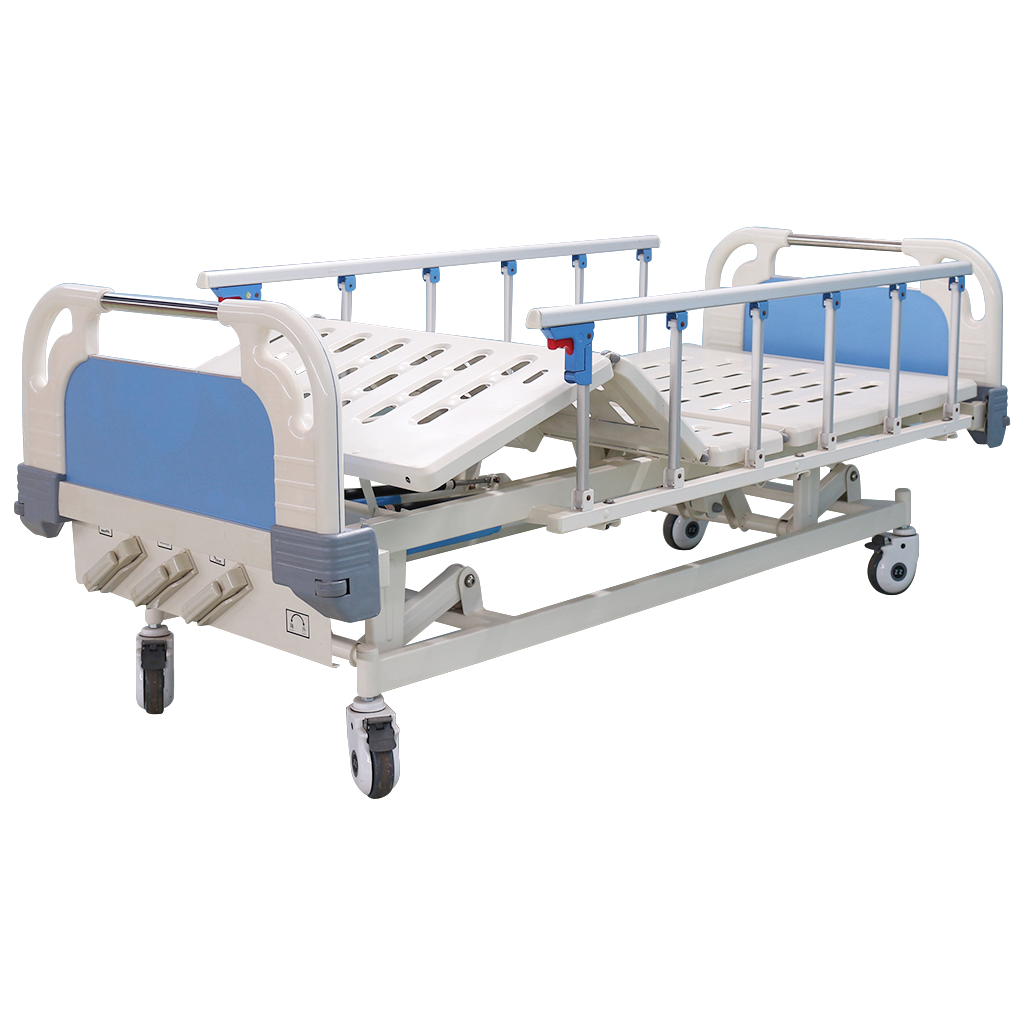 Features
There are no sharp edges and the entire bed is powder-coated.

Accessories such as side rails, headboard, footboard, castors, cranks, drainage bag hooks, pole with holders are provided with this product.
Functions
Ideal for elderly people at home

Helps patients to remain comfortable with ample options for backrest and knee placement.
Hospital Bedside table
The hospital bed comes with a hospital bedside table. It has drawers to keep your stuff. The drawer has wheels to ease movement for the patient when they want to access their stuff. It is made of a premium 100% molded plastic that is strong and easy to clean.
Feature of hospital table locker
* Its material is 100% pure ABS plastic injection, no toxic, strong, anti-rust and anti-corrosion, easy to clean, long lifetime.
* Comes with a hidden type towel hook, firm, anti-rust, and easy to clean
*It has drawers with big storage space
* It has a long wheel axis permeate wheels for stability and easy movement.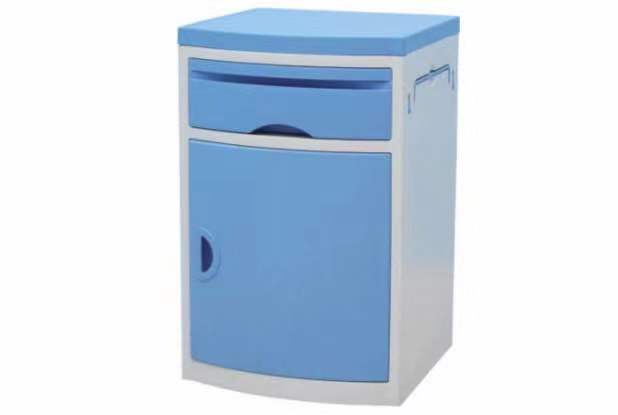 Medical Infusion Cart
The medical infusion cart is medical equipment that is required in any hospital. It helps in carrying the medicine, which prevents it from falling. It also assists in carrying other important items. The Cart is adjustable and can be raised and lowered as per the requirement.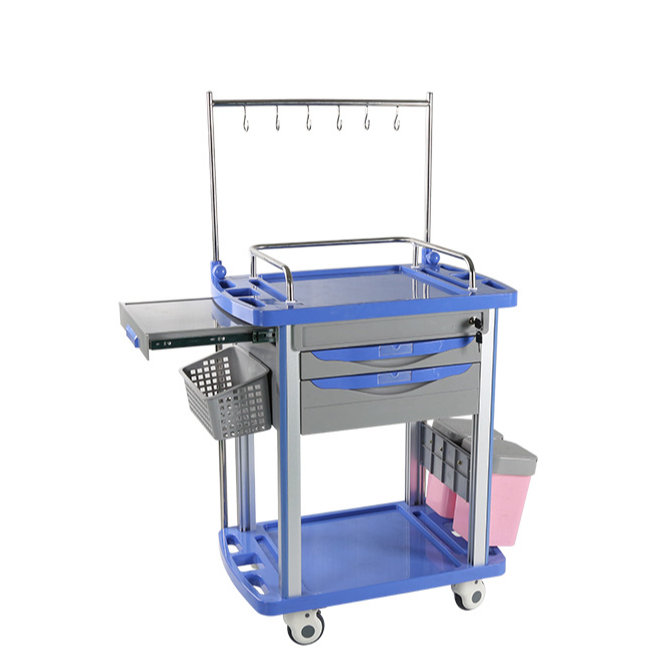 Feature of medical trolley
Applicable to medical staff for patient first aid

The main body is made of aluminum, steel, ABS, a new material engineering structure, four-column load-bearing

Recessed plates make extension space for holding more item

ABS engineering guard rails fence, transparent soft glass on the table

Front: central locking, design two-layer drawer

Left side: Deputy work desk, data box

Right side: storage basket, two dirt buckets

Luxury silent casters, (two with brakes, two without brakes) anti-curls
Hospital Emergency Trolley
This is a trolley used to support an oxygen cylinder of a patient when needed. The trolley eases the movement of the patient from one place to another. A belt is linked/attached to the human body, this prevents falling or breakage. The trolley also has noise-free castors for free and no disturbance movement.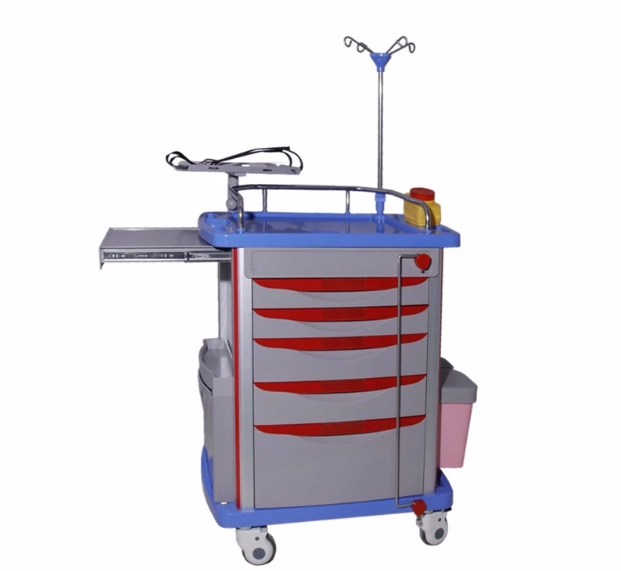 Feature of the hospital emergency trolley equipment
Integral ABS surface, special concave top design covered with transparent plastic.

Table-top: ABS Board shaped by mold;

Top rails: High quality stainless steel;

Castor: Luxury noiseless casters, two with brakes;

Power cable with sockets: Movable 5 meter electrical wires;

Hidden Oxygen cylinder holder, belts fixed on cart main body.
Hospital Overbed Table
The hospital overbed table is often referred to as a dining table. It is mostly used by patients when dining with food. It reduces strain and allows patients to feed comfortably.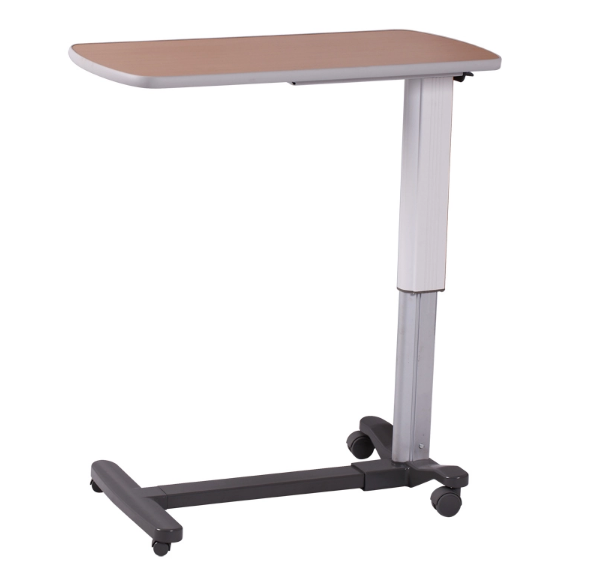 Features of the Hospital Overbed Table
The hospital tables over the bed are light and easy to operate, enable to raise or lower the table-top by one hand.

The vertical height measured from the floor to the working surface of the top is adjustable between 645 mm minimum to 900 mm maximum.

The hospital over bed table is U shape supporting the table-top and strengthen its stability.

It has a 4 piece castor which ease movement

It is supported by a vertical column, which allows proximity to the bed to have maximum usable table surface.
Conclusion:
As a leading hospital furniture manufacturers in China, we have sufficient experience of handling hospital furniture tender specification. One example of higher standard of ICU bed is such a case below: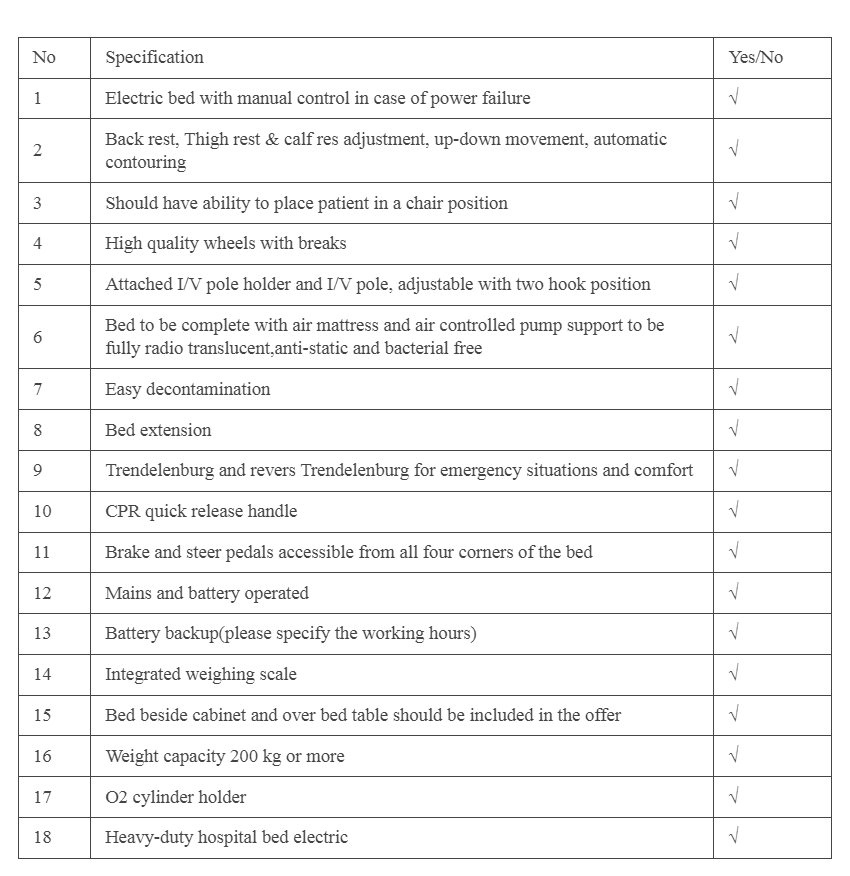 Our mechanical engineer will enable to realize the customized hospital tender specification list into a real product, our sales service will also accommodate client tender document inquiry as positive feedback, presenting to technician, solution-based for tender, quotation sheet for client. Each process will be specific and easy for client to get the right hospital furniture products and reasonable prices.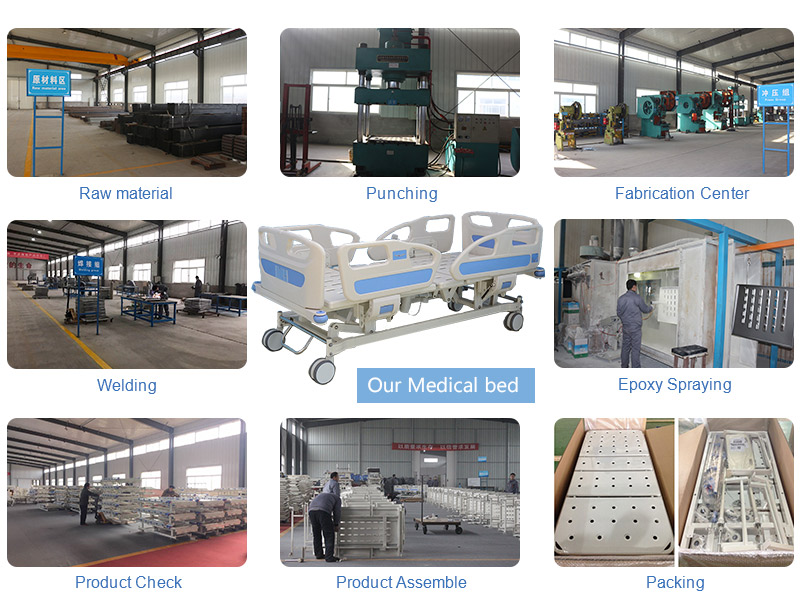 Anyang Top Medical Devices Co., Ltd have tonnes of experience of completing the hospital-furniture order in bulk and make delivery punctually, which makes the company stand out there and establish a good image in the hospital furniture market.