Caring for your loved one can be daunting and stressful, especially when they need long-term medical care at home. Depending on the specific medical condition of your loved one, it becomes necessary to install a hospital bed. That way, you can make sure they are comfortable and adequate care is being provided.
Hospital beds are used in addition to other equipment related to mobility issues such as wheelchairs or walking sticks. Hospital beds for home care have lots of benefits and so buying the thing is a decision that deserves much attention. Continue reading the article to know more about a hospital bed for sale and find the right one for your needs.
What are hospital beds or for home use?
A hospital bed is a kind of adjustable bed that is designed to help seniors and people suffering from mobility issues either in the long or short term. The hospital beds are height adjustable. Also, you can change the elevation of the legs and back.
Hospital beds have three unique features that distinguish them from normal beds: IV poles, wheels, and rails. IV poles are important for people who need intravenous therapy for hydration or medication. The poles allow the bag to keep upright and near the bed.
Wheels on a hospital bed make transportation easy for the user without needing to remove them from the bed. And, the side rails are important from the safety viewpoint for people who find difficulty in getting in and out of the bed.
So, hospital beds are designed in a way to provide caretakers easy access to the patients. You can make adjustments to these beds according to the physical and medical requirements of the patients. The adjustable height of these beds prevents falls and reduces hip or knee strain when people get in or out of the bed.
When is a hospital bed needed or for home care?
To begin with, hospital beds are designed to provide comfort and convenience to patients. These beds have certain features that make it easy for caregivers to clean, transfer or feed the patients. In general, hospital beds are helpful if your loved one is experiencing the following medical conditions.
Mobility issues

Recovery from abdominal or back injuries or surgery

Bed rest for longer hours

Having issues with getting in and out of bed

Needs regular caregiving attention

Suffering from cognitive decline
Benefits of hospital beds or for home use:
Before you look out for hospital beds of sale, here are some benefits of having them at your home for elderly persons.
In terms of safety – Hospital beds keep your loved one safer at all times compared to an ordinary bed. If you need to give rest to one of your legs after going through surgery, a hospital bed is the best choice for this. Also, if you need to elevate your legs, head, or back for comfort, these beds are more efficient.
The rails on a hospital bed keep patients stable when they exit or enter the bed on their own. It reduces the risk of falls. Another safety feature is that the beds could be raised or lowered instantly. People who have leg or back issues require specific bed height to exit or enter safely.
In terms of transportation – A hospital bed comes in handy when you need to move a patient from one room to another. And, you don't have to remove them from the bed. As such, it reduces the risk of a fall when moving the person into a wheelchair from the bed. Also, they respond to medical emergencies in some scenarios with ease.
In terms of adjustability – With hospital beds, you can elevate your legs or head, or both. It is like sitting in the bed and this is done by the touch of a button. A remote that is attached to the bed allows the user to make adjustments to the bed. That way, the patient retains some amount of independence while remaining confined to their small space.
Things to consider before buying a hospital bed for home use:
Dimensions of the bed:
Almost every hospital bed is 80 inches long and 36 inches wide. And, the height is adjustable that ranges from 8 to 36 inches. While some hospital beds are wider, you can't find them easily. Hospital beds are almost equal to a queen, full and double sizes of traditional mattress or bed.
So, the normal dimension of these beds is equivalent to twin XL beds. And, they have enough space to accommodate one adult. Hence, before you buy a hospital bed ensure that it has the right dimensions suited for your needs.
If you want a wider bed, make sure that it moves through the doorways with ease. But if you are certain that you need a wider bed and don't require much medical attention, it is best to buy an ordinary adjustable bed.
Different types of hospital beds:
There are three types of hospital beds: standard or manual, bariatric, and ICU-style. Keep in mind that each of them serves its purpose. However, before you choose to find the one that suits you best, remember that all of them have basic functions on them. They all adjust, lower, and raise to meet the requirement of elderly people who are confined to their beds.
Standard or manual hospital beds – Standard hospital beds are made with a steel frame and wood-grain footboards and heads. These kinds of hospital beds are the least expensive and work similarly to that of an adjustable bed.
Manual hospital beds like the 3 crank hospital bed are perfect for most users. Also, you can upgrade the bed with IV poles, air mattresses, and other medical equipment. To operate this bed, you have to use the cranks that are positioned at the foot.
Because they don't depend on electric power, they are simple to use. Moreover, chances of motor failure are reduced as well. They are easy to maintain and cost-effective.
3 crank manual hospital bed adjustment function: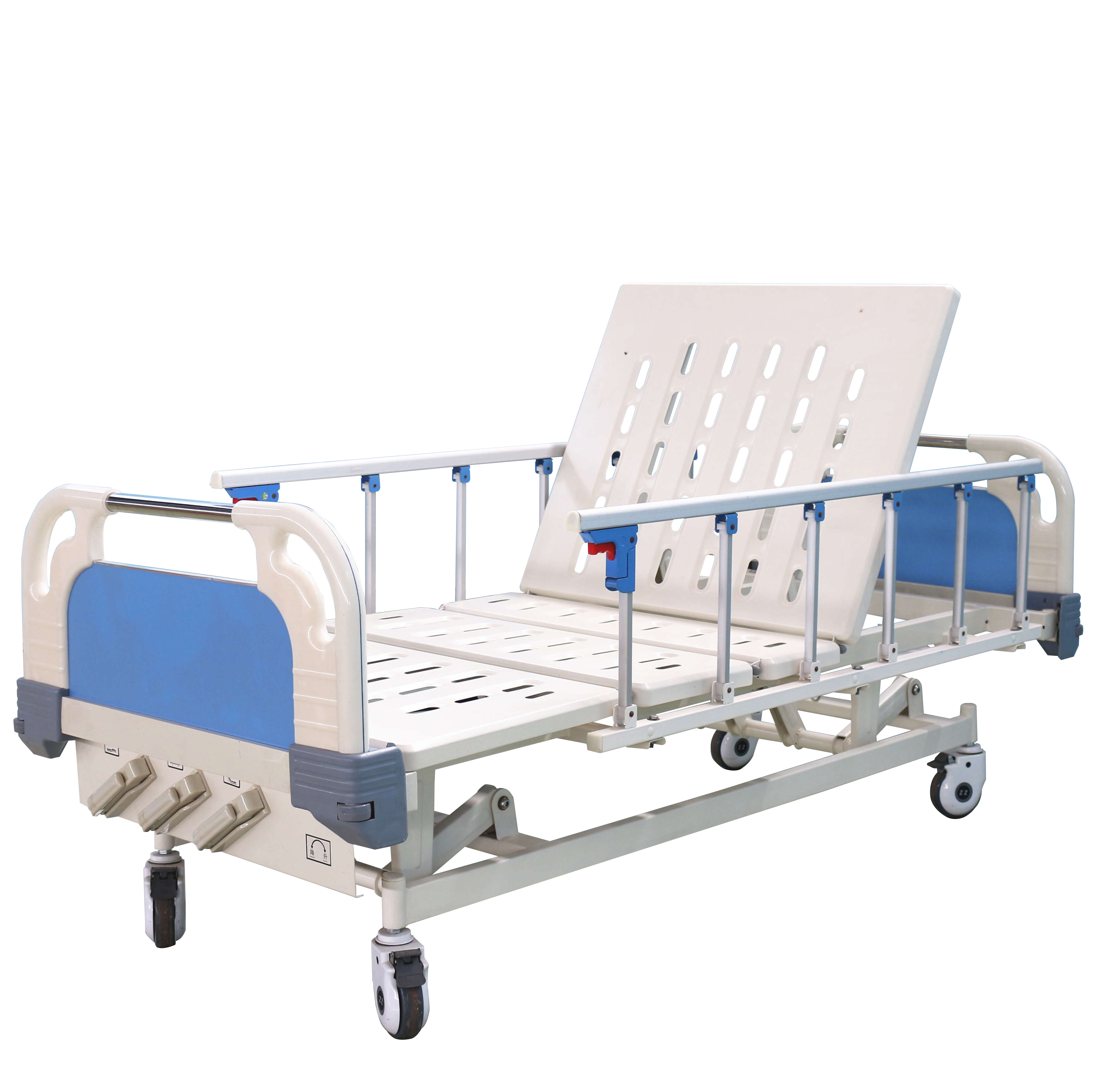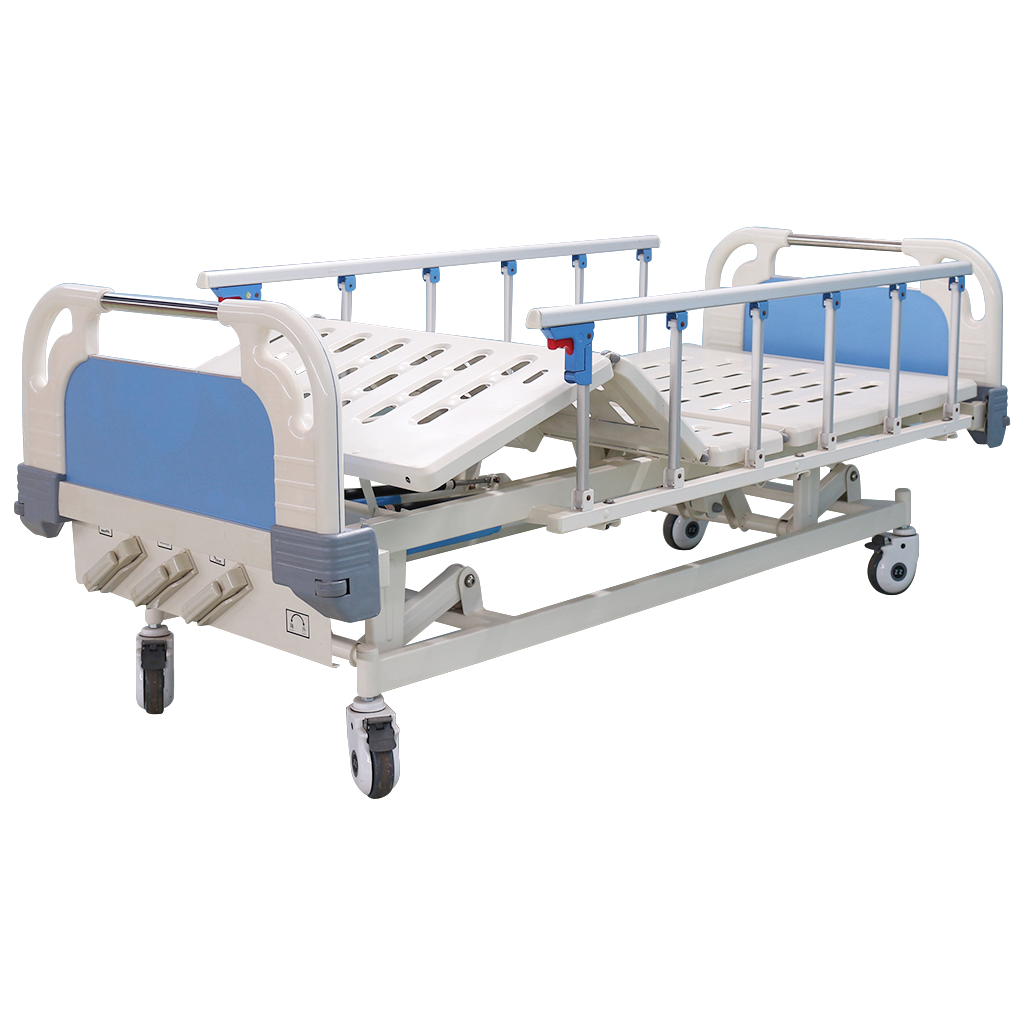 High Low manual hospital bed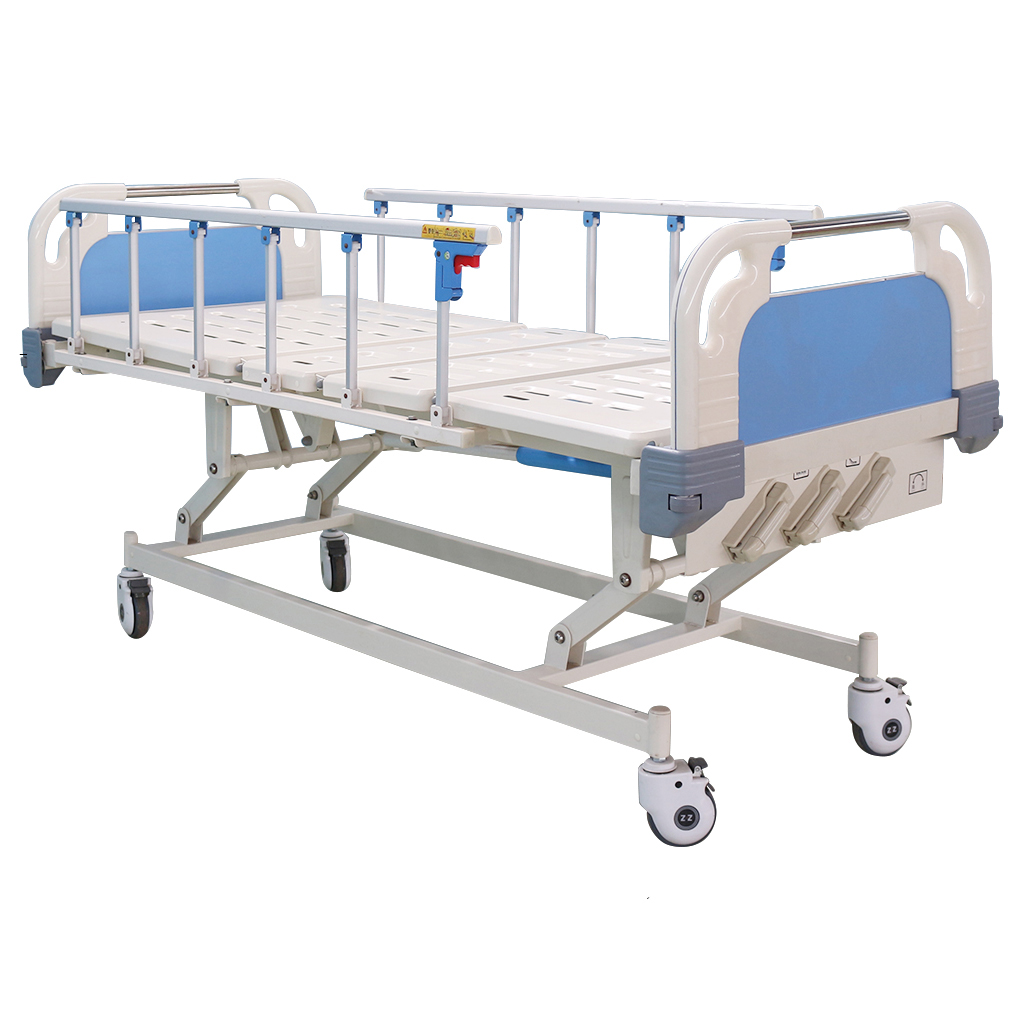 3 crank hospital bed spart part.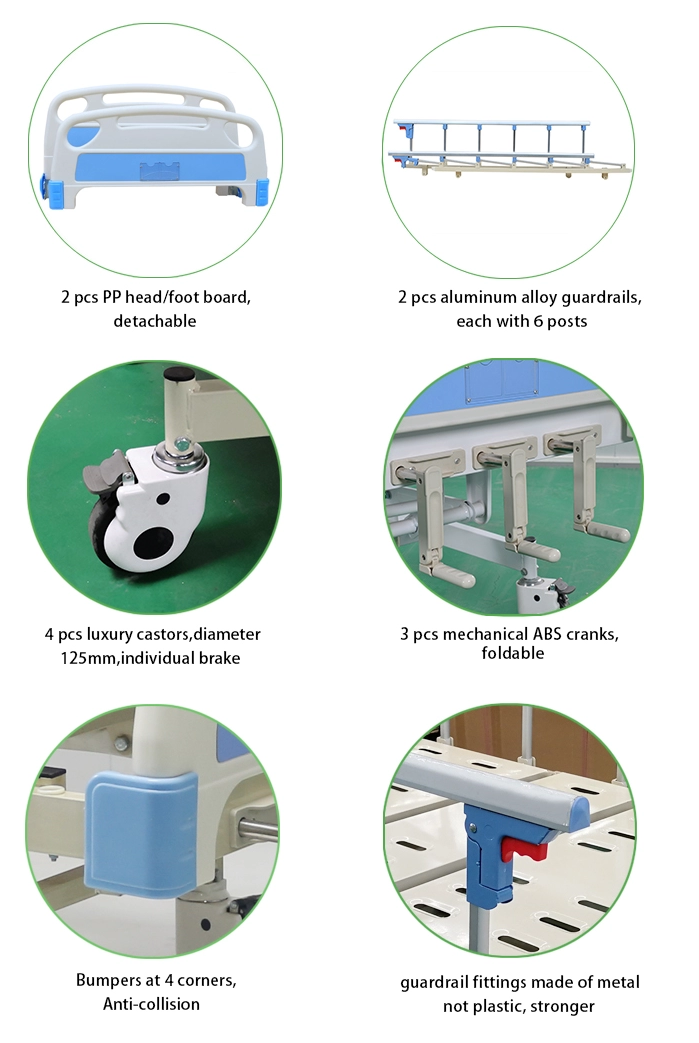 Bariatric hospital beds – In general, bariatric hospital beds are almost similar to manual hospital beds when it comes to functionality and shape. But they are much wider compared to the standard or manual hospital beds.
Bariatric hospital beds are about 42 to 48 inches wide as opposed to standard 36. Moreover, they can hold from anywhere from 600 to 750 pounds as opposed to standard 275 to 450 pounds.
Bariatric hospital beds are perfect for patients who need more space or strength. And, a normal hospital bed won't provide them. However, with added weight capacity and size comes a hefty price.
ICU-style hospital beds – These kinds of beds are completely different from normal hospital beds. An ICU-style bed like the 5-function electric ICU bed is more secure and stable for patients who are at greater risks for a fall.
Moreover, they have wheels that are built with the highest quality material. As such, they allow for smoother and easier transportation. Regarding bed surfaces, the ICU-style hospital beds are similar to that of the standard ones.
ICU bed 5 funtion of adjustment: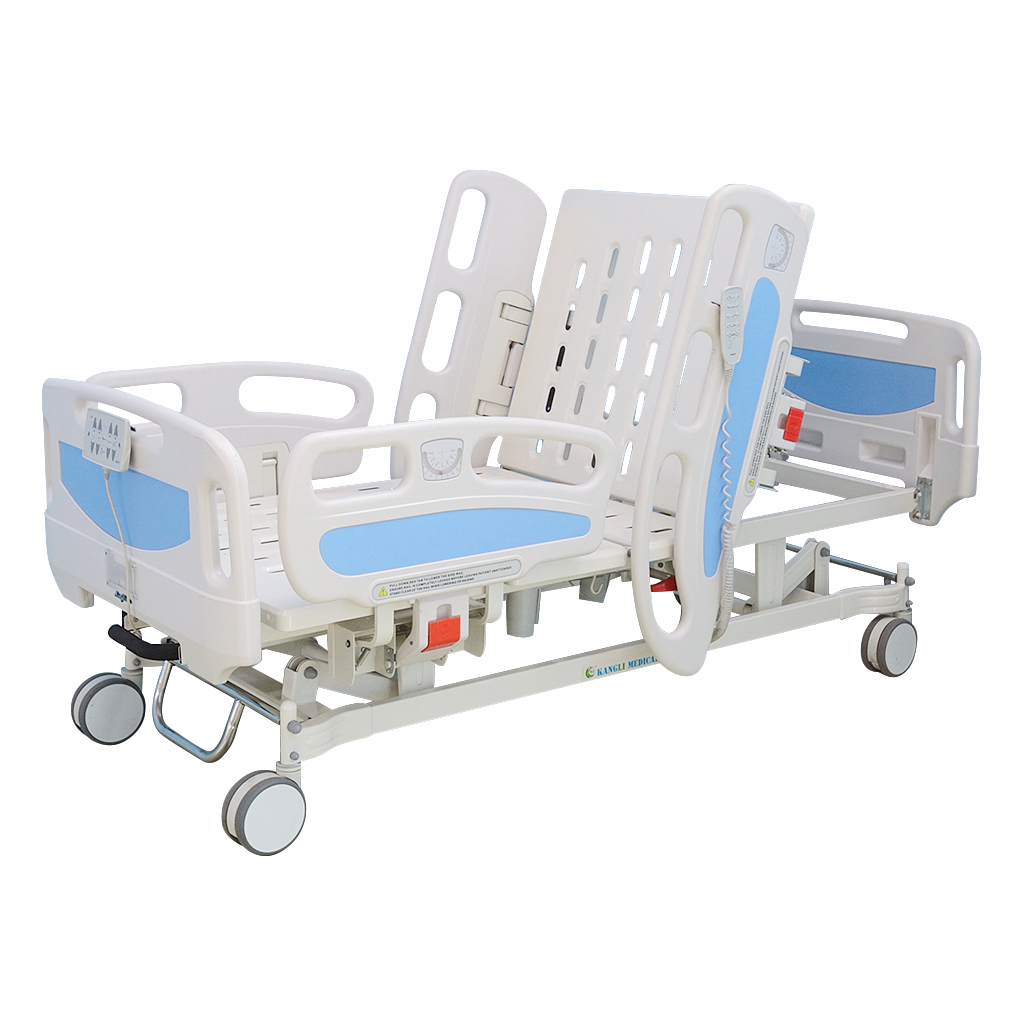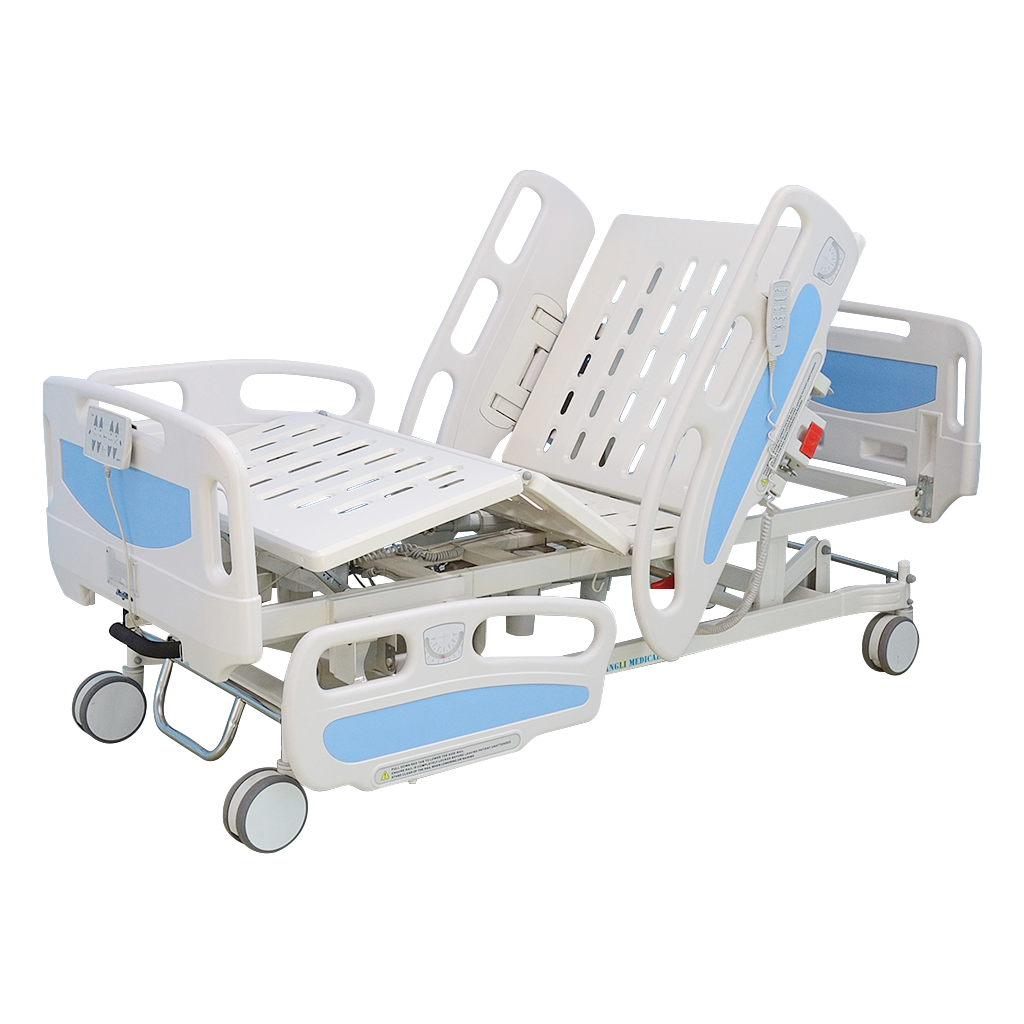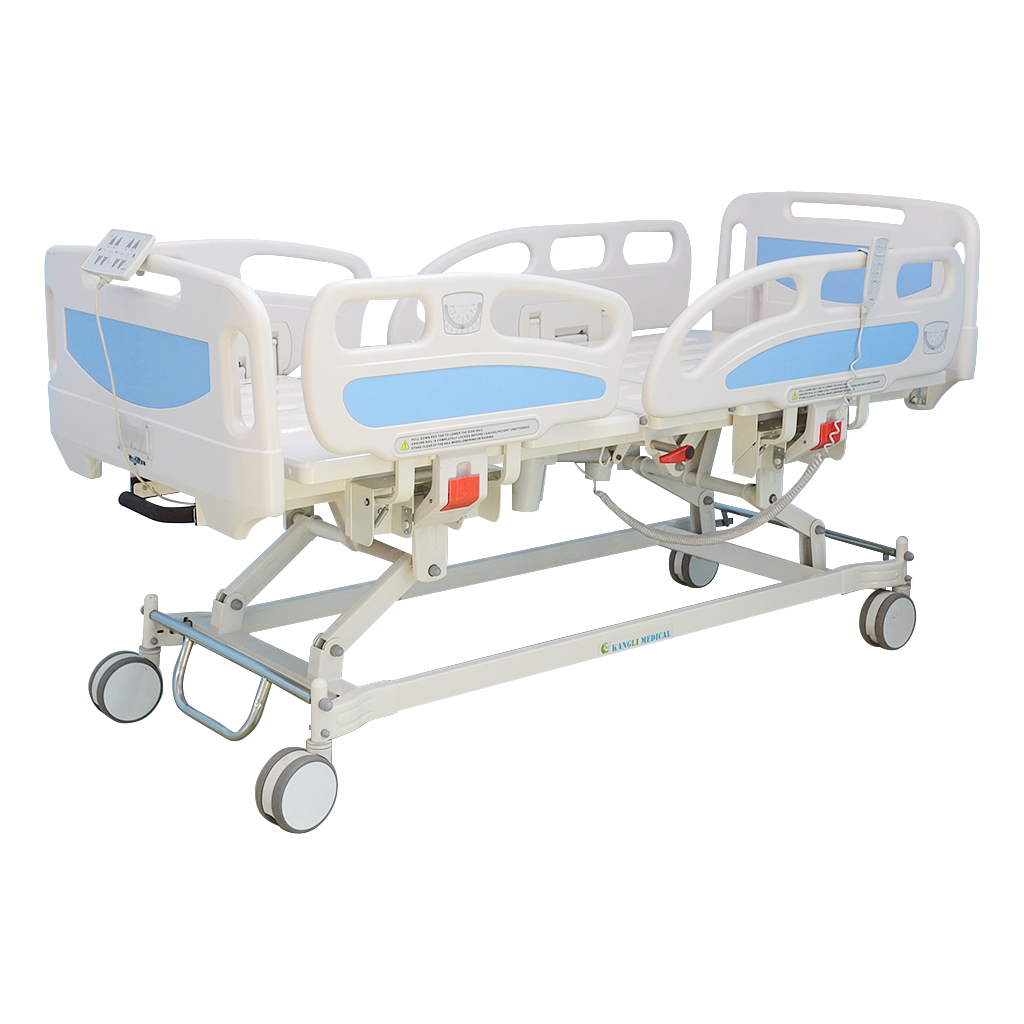 Trendelenburg and reverse Trendelenburg position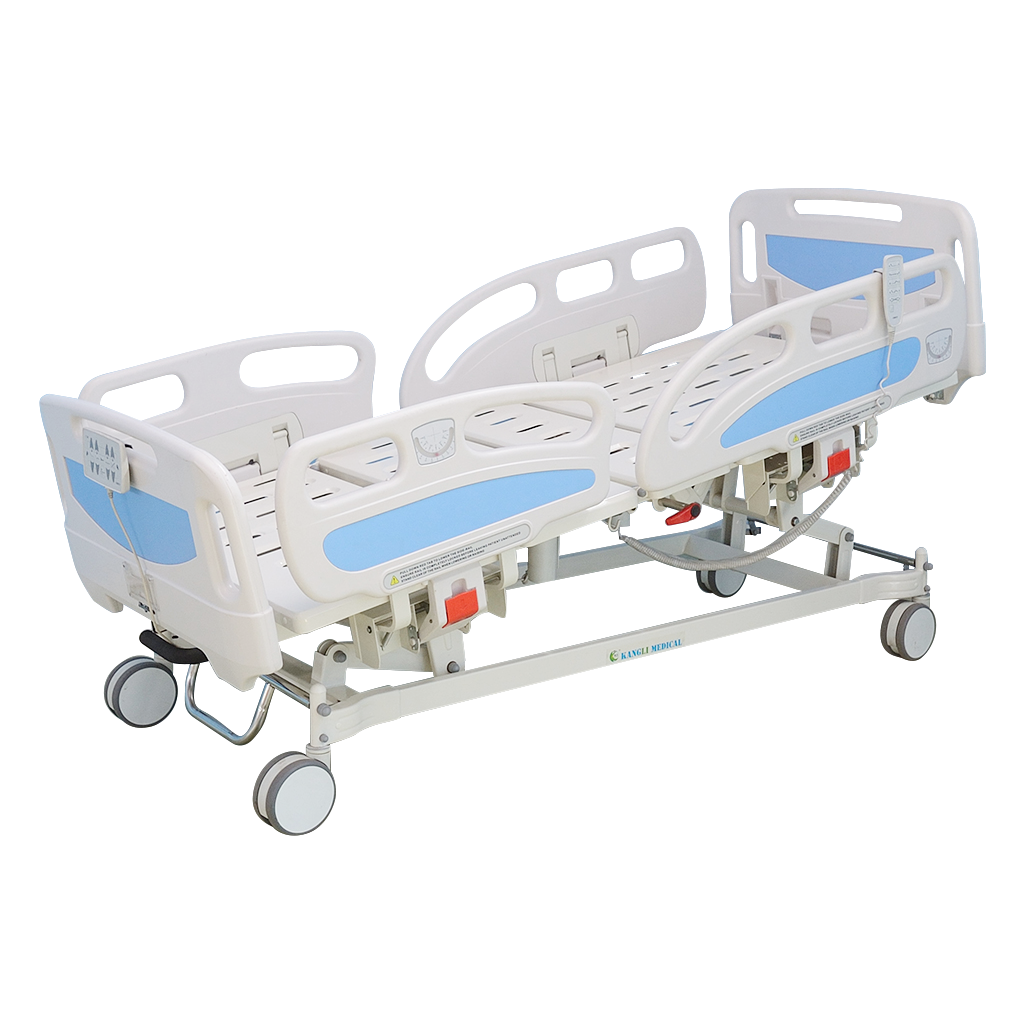 Mattress for your hospital bed:
There is no question that all mattresses give you the same quality and features. If you buy a hospital bed, the mattress that comes with it isn't comfortable at all. And, sometimes the mattress isn't included. There are two kinds of hospital bed mattresses for you to buy.
The first one is the hospital bed foam mattress. They are comfortable, soft, and perfect for people who have a hard time sleeping on stiff mattresses.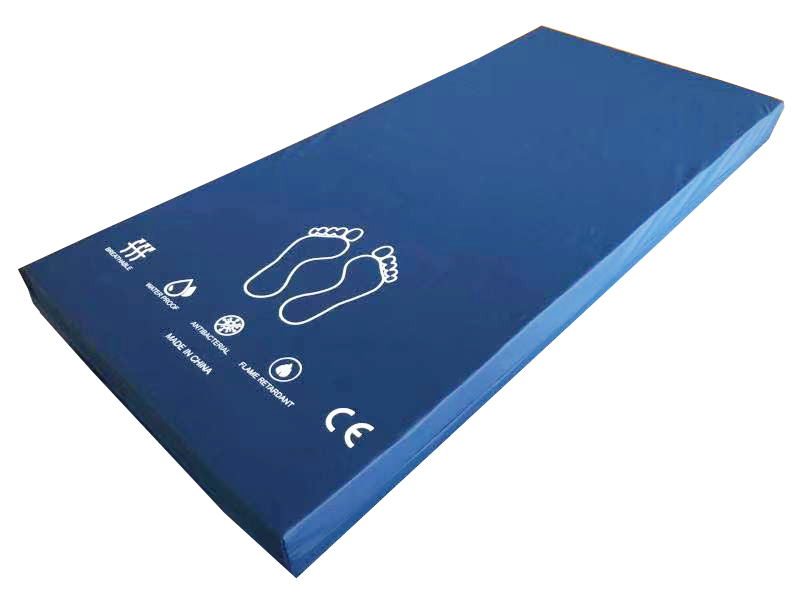 And, the other one is air mattresse for hospital bed. These mattresses have several air pockets build inside them. They can deflate and fill the air to prevent the formation of pressure sores.
So, if you believe that pressure sores won't be an issue, and the patient can get out of the bed whenever necessary, an air mattress isn't required. In that case, a memory foam mattress works fine. But if your loved one is confined to bed most of the time, it is wise to buy an air mattress.
Cost of the hospital bed:
Keep in your mind that hospital beds for sale aren't cheap. And, a bed along with a mattress might cost you more than $1000. There might be less expensive hospital beds and mattresses, where you can get them for $800 or so.
But you should expect to pay anywhere between $1000 and $2000 for your hospital bed. ICU-styled and bariatric hospital beds cost you more. Certain high-end models might cost over $5000. And, mattresses for your beds aren't cheap either.
However, they won't cost anything more than a normal mattress that you use at home. You can get a hospital bed mattress for about $150 to $500. The price difference depends on how thick the mattress is and whether it is a memory foam or air mattress.
Conclusion:
Hospital beds are very beneficial and convenient for persons who need them. These beds are very stable, safe, and highly adjustable. Moreover, these beds become more comfortable with the right mattresses. A manual hospital bed should be perfect for your needs unless you need an ICU-styled or bariatric hospital bed. Medical supplies distributor have any government hospital bed tender, please send you inquiry to us, we have sufficient experience in designing and manufacture the bed according the tender specifiction.