Hospital emergency cart
A hospital emergency trolley can carry an oxygen cylinder whenever needed. There is a provision of a belt that is fixed with the main body. Hence, no material will fall on the floor when it will be moved from one place to another. The entire product is durable and no question of breaking also in any circumstances. Top-class stainless steel for guard rails, and there are luxury noiseless castors for free movement. In some models, provision of power cable and socket.
Feature of the hospital emergency trolley equipment: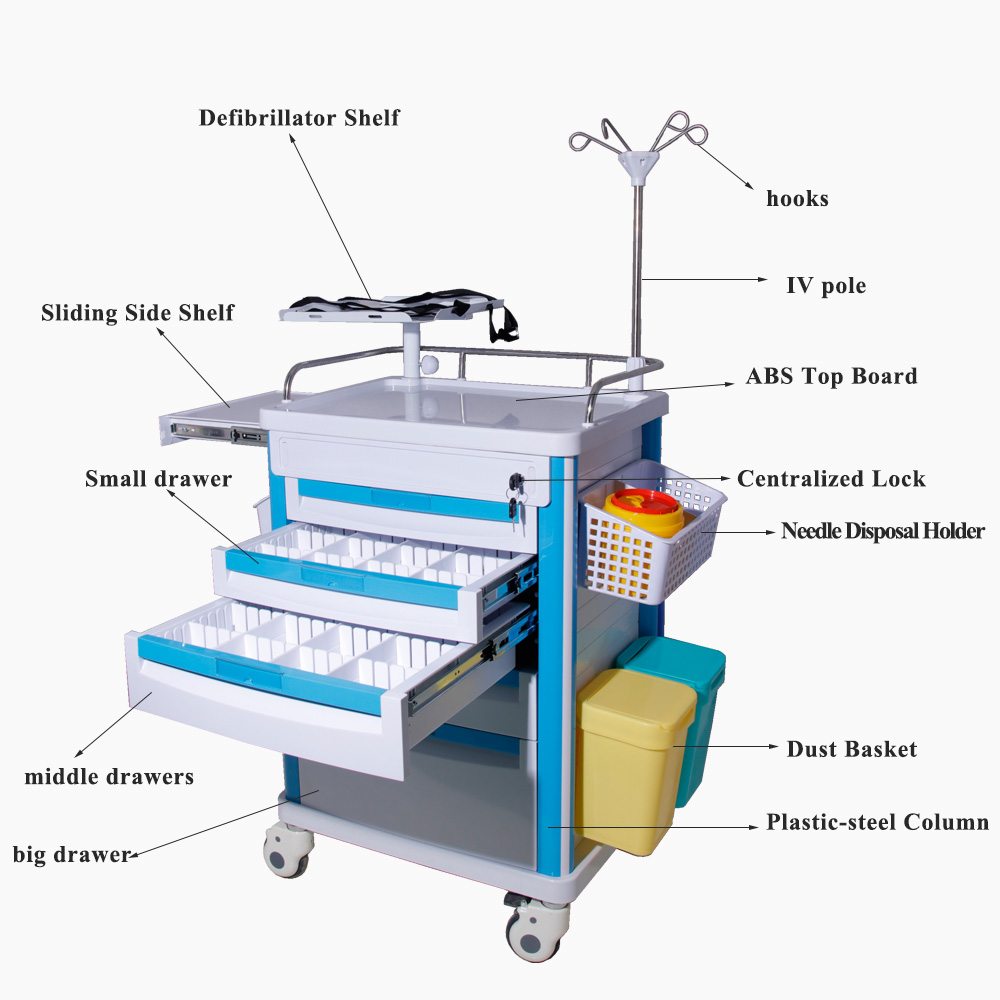 1. Mainly composed of aluminum, steel, and ABS engineering plastic structure;Plastic steel column four column bearing;

2. ABS arc bottom injection molding process with handrails on both sides, professional sharp box, can be placed at will, sag design to prevent items from falling, sag size: 512×433×12 mm table with 304 stainless steel guardrail, with transparent soft glass;

3. Left side of the vehicle body: the defibrillator platform can be used for left and right exchange of infusion rack, and the hidden sub-workbench can be used for detachable file box;

4. Right side of the vehicle body: concealed telescopic infusion rack can be used for left and right exchange of defibrillator platform, sharp box, and double dirt bucket;

5. Back of the car body: defibrillation board, concealed telescopic oxygen cylinder bracket, mobile power cord;

6. Bottom of car body: luxury universal insert mute wheel, two of which have brake function, high-strength polyurethane casters are portable and flexible;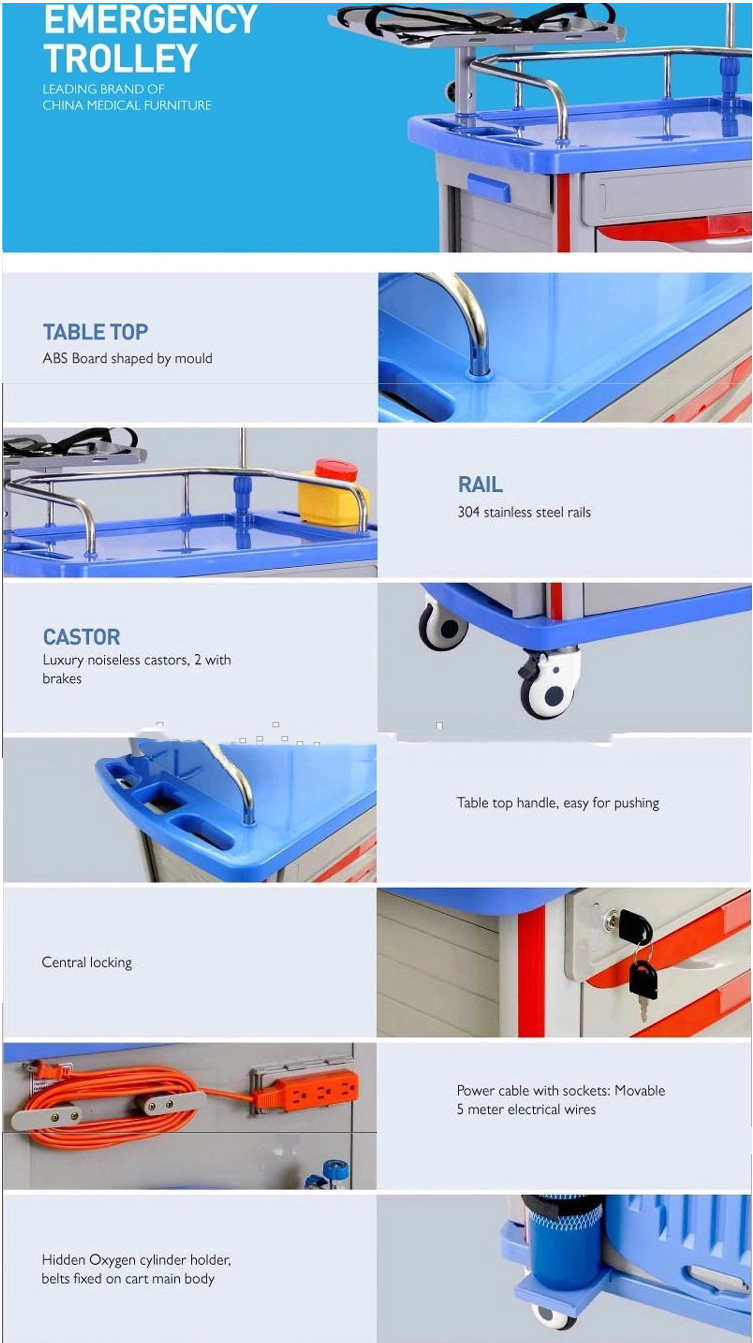 Accessories:
Sliding side shelf, dust basket, needle disposable holder(optional), IV pole, defibrillator shelf, C.P.R.board(optional), oxygen tank holder, power outlet and hooks, file holder, centralized lock, stainless steel guard rail, luxurious whist casters etc.
Specification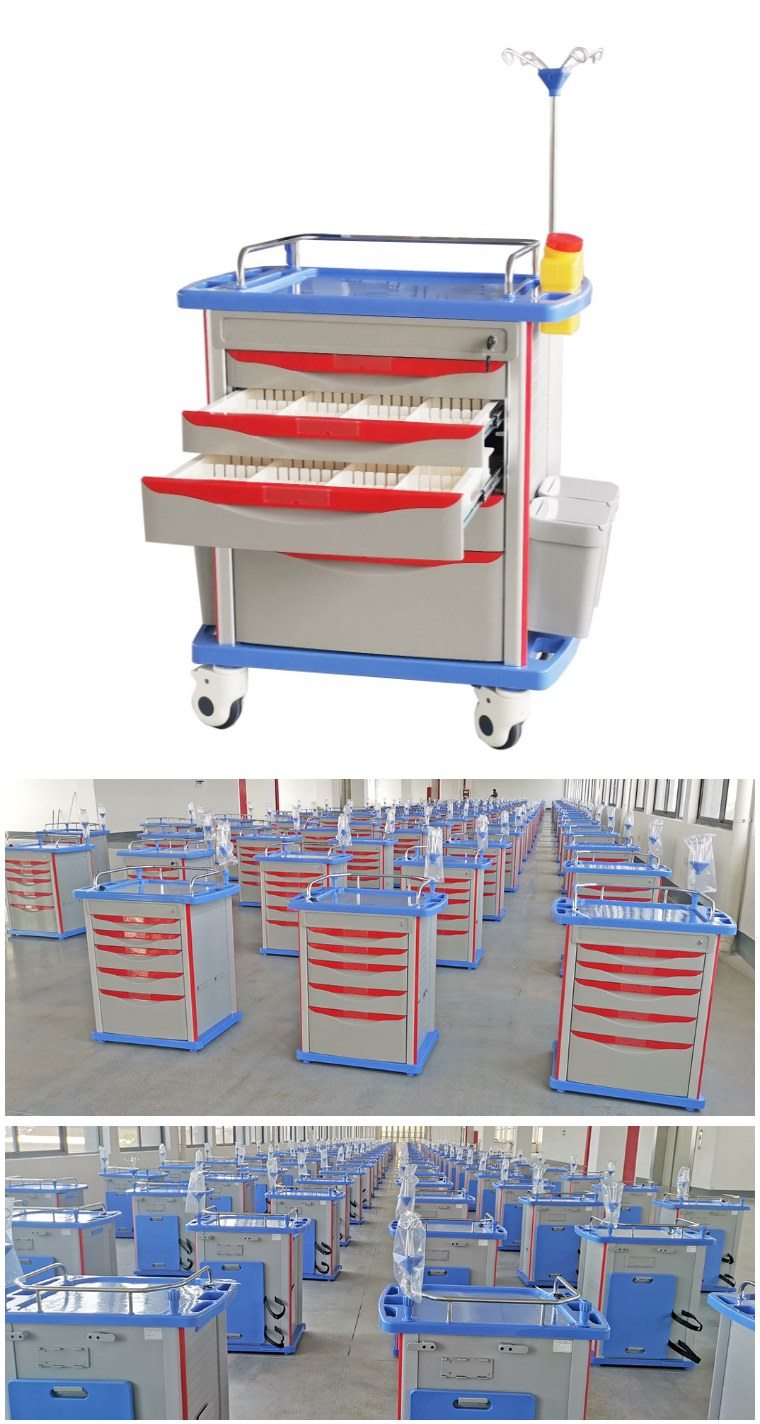 | | |
| --- | --- |
| Model | Quantity |
| Drawers | 2 small, 2 middle & 1 big drawers |
| Warranty | 12 Months |
| Certification | CE ISO FDA |
| Sliding side shelf | 1 piece |
| Dust basket | 2 pieces |
| Needle disposal holder | 1 piece |
| Castors | 4pcs silent wheels |
| Size | 750×480×920 mm |