Motorized hospital bed
This 3 functions of motorized hospital bed is powered by leading brand actuator which is medical purpose and 3 years of guarantee available, offering silent operation of adjusting back, knee and overall height up & down.
The full electric hospital bed is designed with central locking braking system. It takes effortlessness to make the bariatric hospital bed motionless once doctor or caregiver steps on the central braking pole.
Feature of the automatic hospital bed
Aluminum alloy hospital bed rails, pushing button operates fold and open;

Central locking braking system;

Bariatric hospital bed, heavy duty loading ability;

Original Denmark Linak or branded powered motor;

Knee up & down;

Back up & down;

Adjustable overall height high and low;

Optional manual operation of CPR release,

Hospital bed back and knee linkage down is the hospital bed CPR release function and auto regression position.
3 Function demonstration
Backrest, Knee adjustable;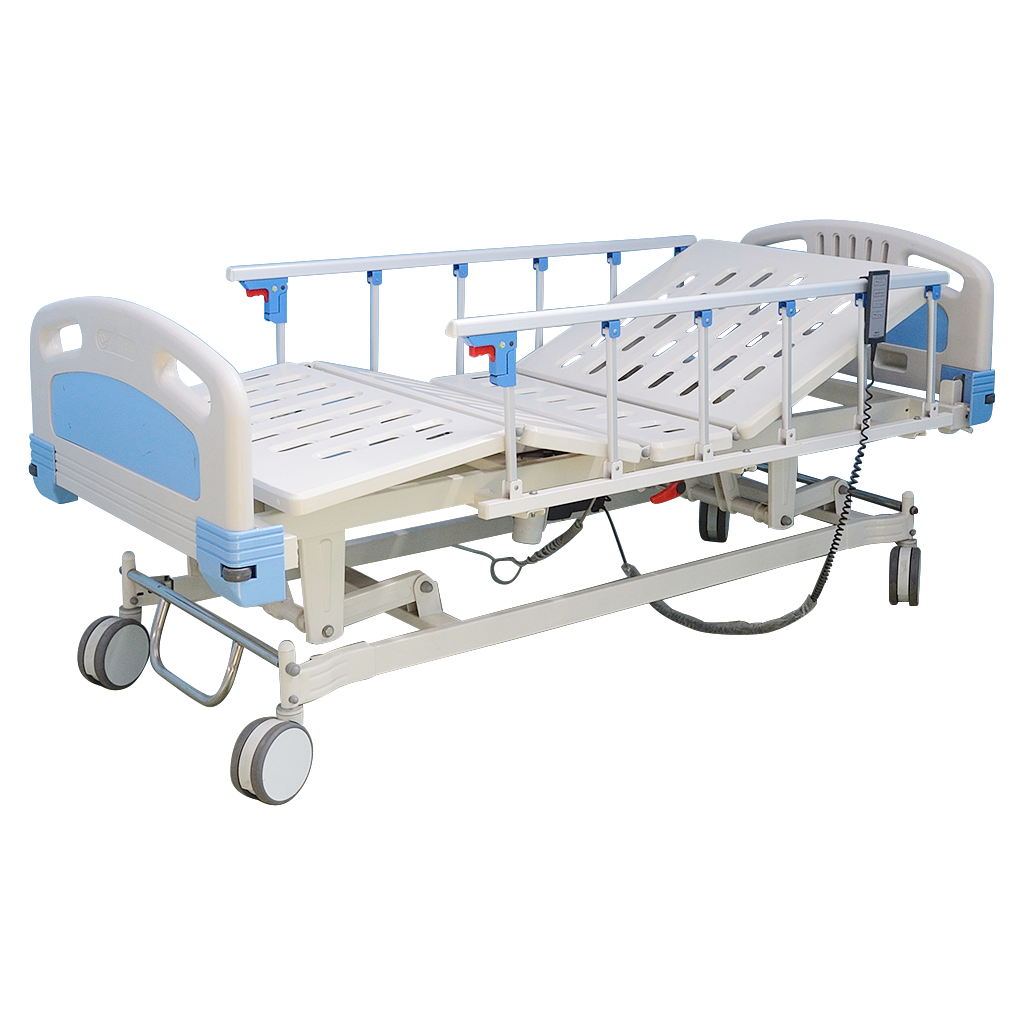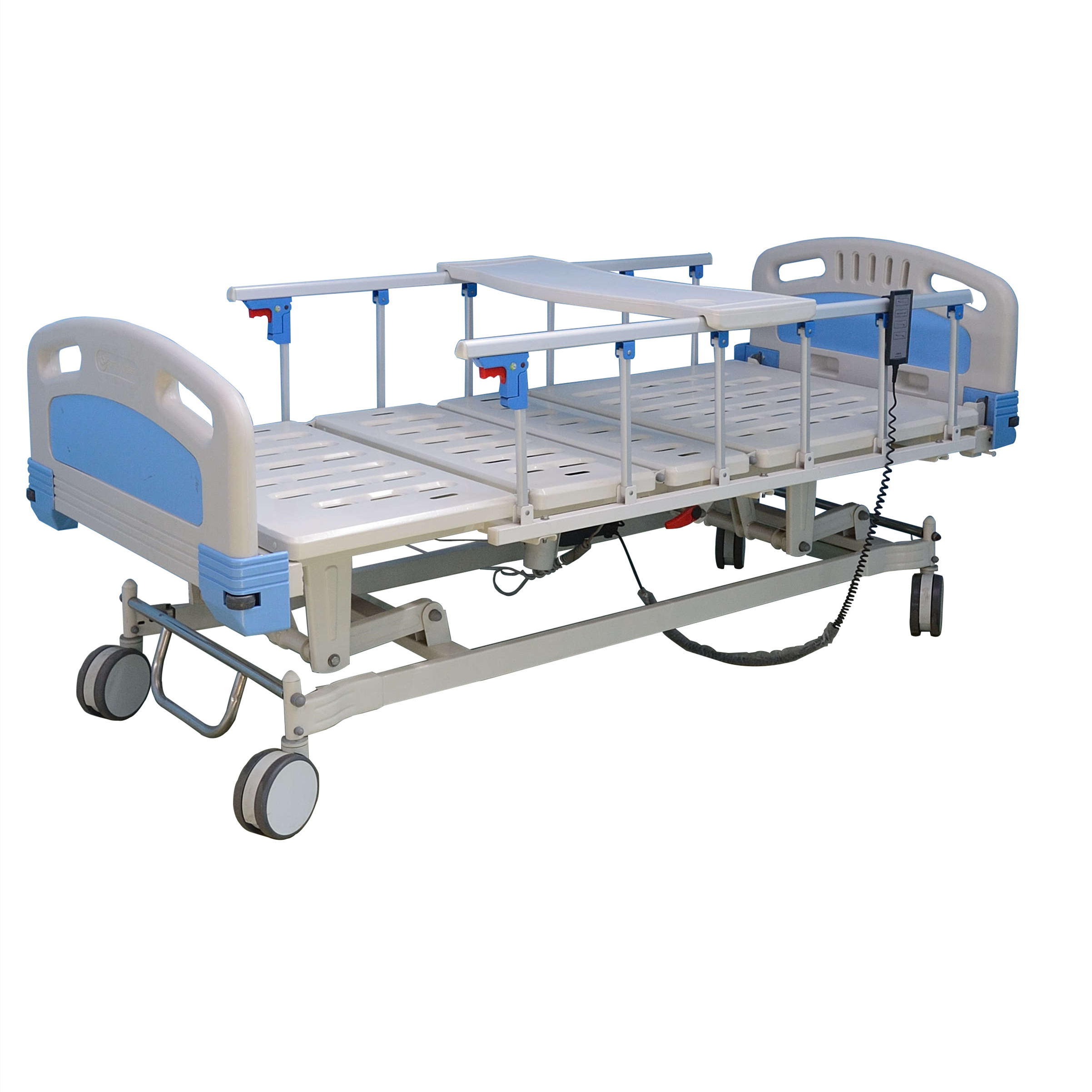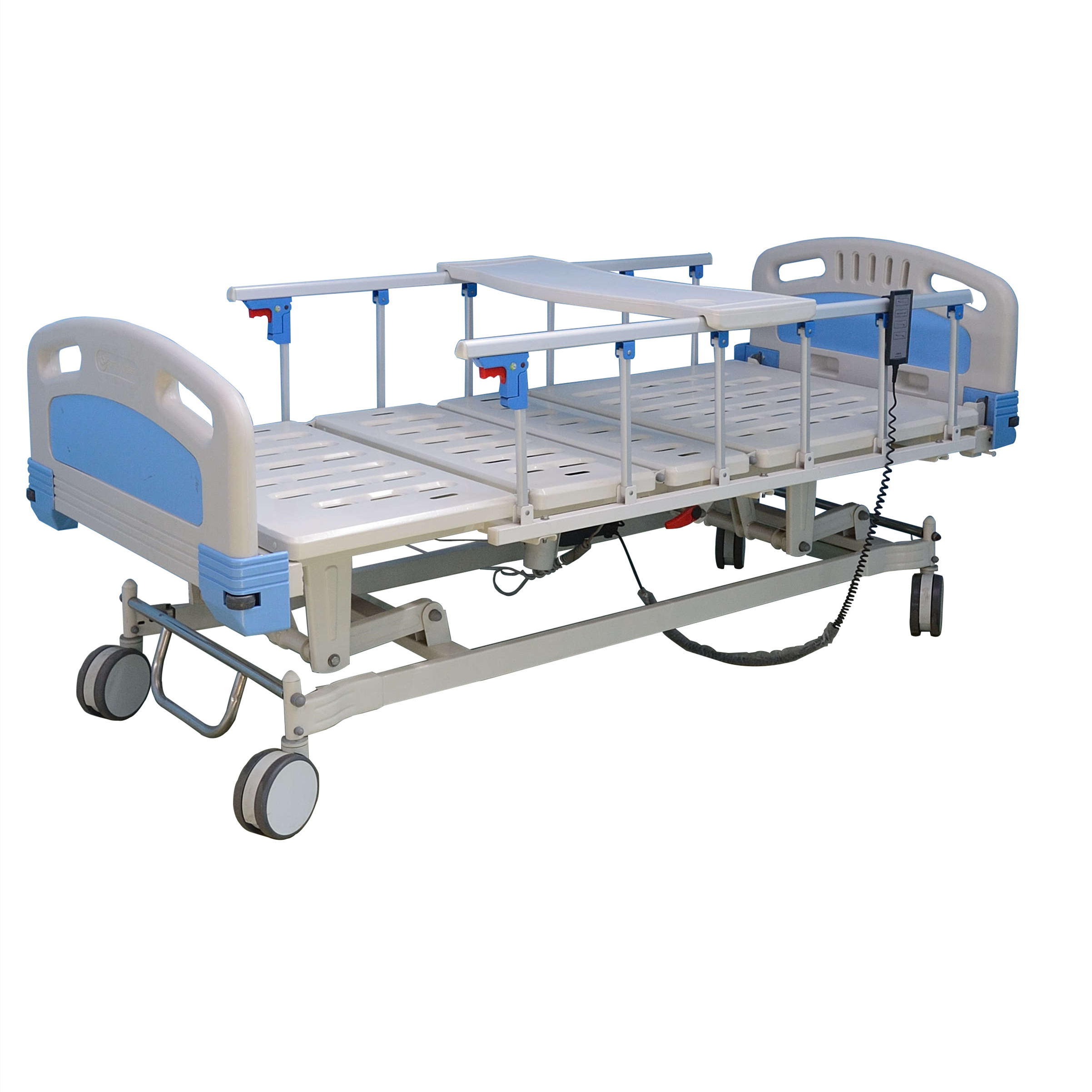 3 function electric hospital bed accessories details
Removable and easy to assemble hospital bed head and end board, ABS material;
6 posts aluminum alloy side rails,2pcs/kit;
4pcs premium central locking braking castor;
1pc electric hand controller;
Anti-bumper on the hospital bed four side angels;
Foldable guardrails button.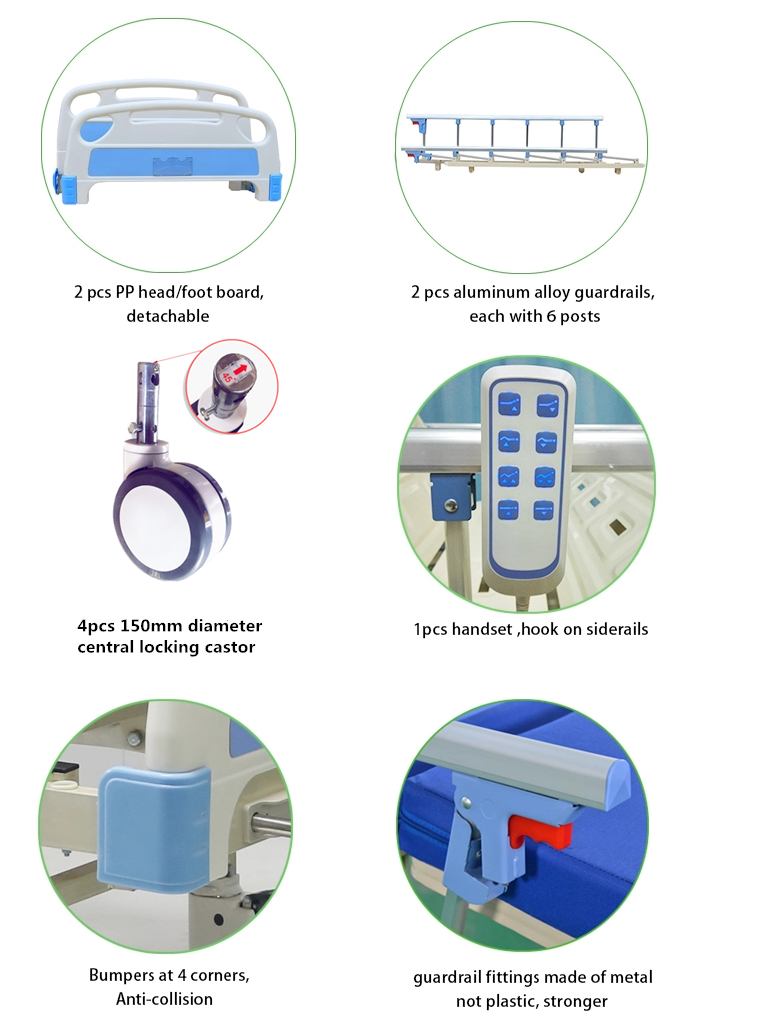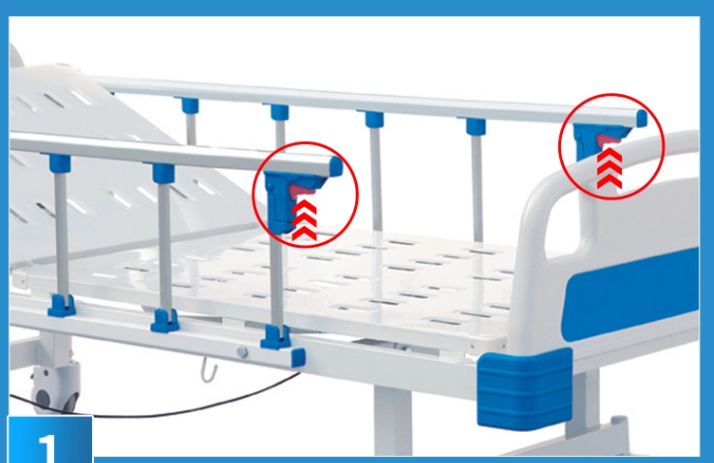 Six grade aluminum alloy guardrail, with metal connection between handrails, one key folding, high strength, stable structure, not easy to deform, durable.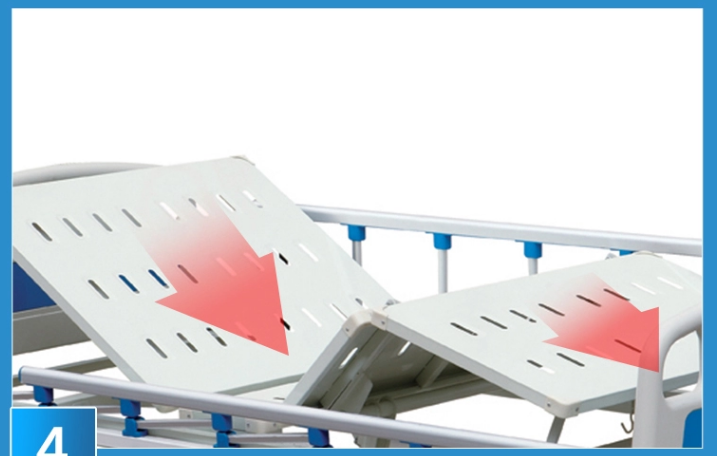 Cold rolled steel stamping, thickened steel, high temperature spray plastic treatment, strong bearing capacity, hospital bed is not easy to deform, long service life span.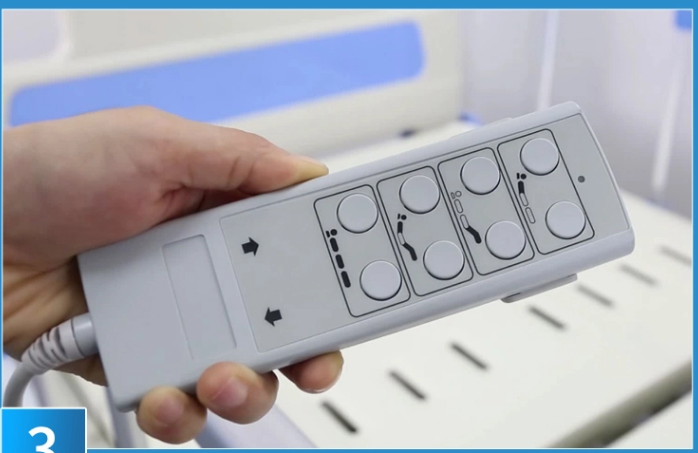 Electric operation, one key operation through remote control, patients can operate by themselves.
Technique
Specification
Product Name
Three Function Electric Automatic Hospital Bed
Overall Dimensions
L2150mm*W980mm*H 480 mm-700 mm
Hospital Bed Frame
Perforated power coasted steel
Hospital Bed  Weight
120 kg
Hospital Bed Platform
MS perforated platform with ventilation hole
Bariatric bed loading Capacity
400 kg (800Ibs)
Electric Bed Voltage:
10V/60Hz or 220V/50Hz
Options
Medical mattress;    Bedside table;    Bedside cabinet
Packaging Box
L2000mm*W1000mm*H500mm
Available Functions
Backrest lifting angle
0-85°
Knee-rest lifting angle
0-45°
Hi-lo adjustment between
480 mm-750 mm
Optional manual CPR function and One-key CPR or regression flat position function;
Back battery one set
Standard Accessories
1 pair
Detachable ABS head & footboard
1 pair
Aluminum alloy side rail with safety lock
3Motor
Denmark LINAK actuators
4 pieces
6" (150 mm) Deluxe Castor with central breaking system
1 Set
Braking Pedals
1 PCS
Hand Controller
4PCS
IV pole socket
4PCS
Drainage bag hooks
The hi low hospital bed that lowers to the floor design is available, reducing the risk of falling out of the hospital bed. High low adjustable height is 270-650 mm. Hospital bed fully electric is 4pcs independent 125 mm castors with pedal. It is named as Ultra low hospital bed.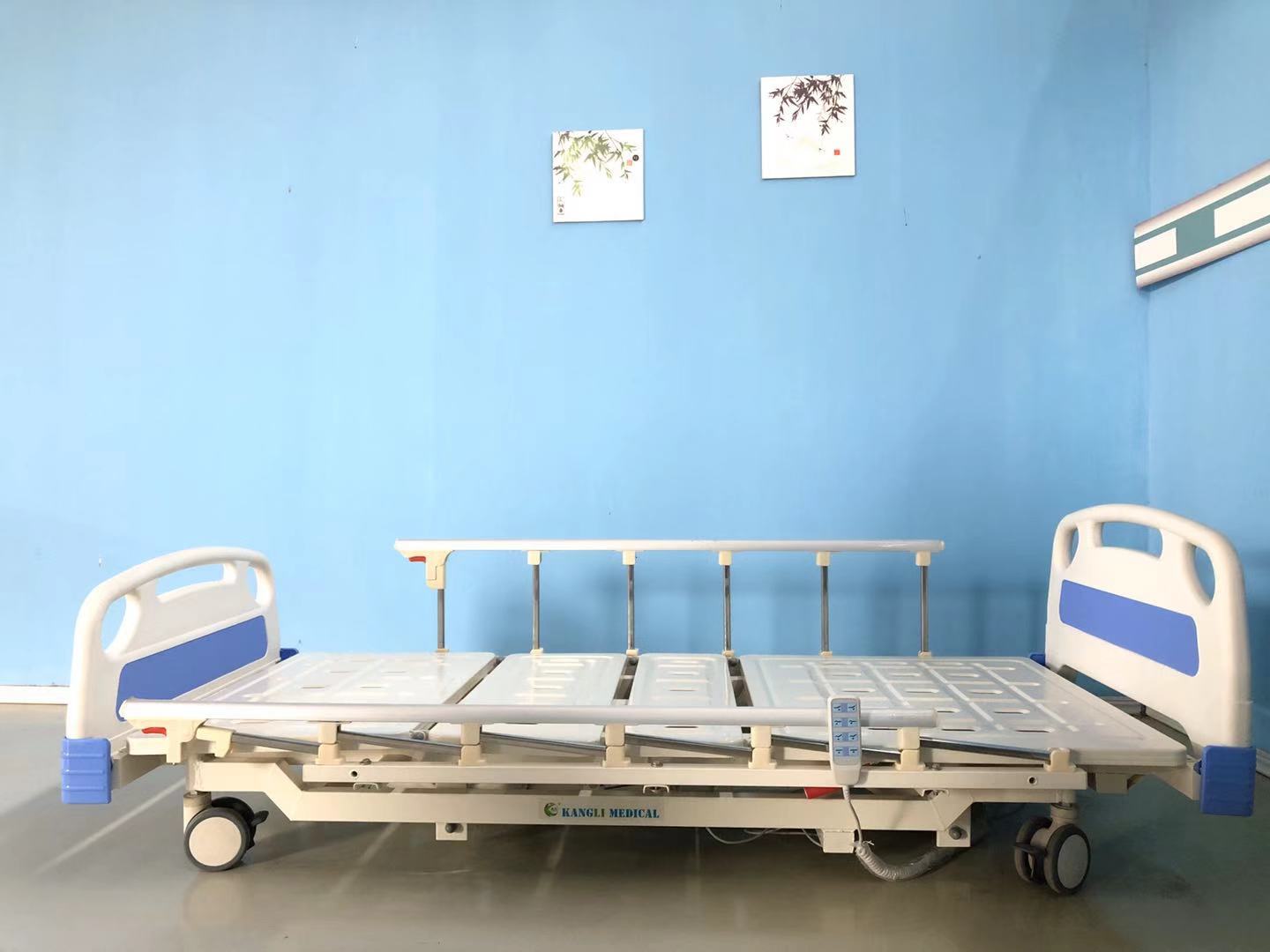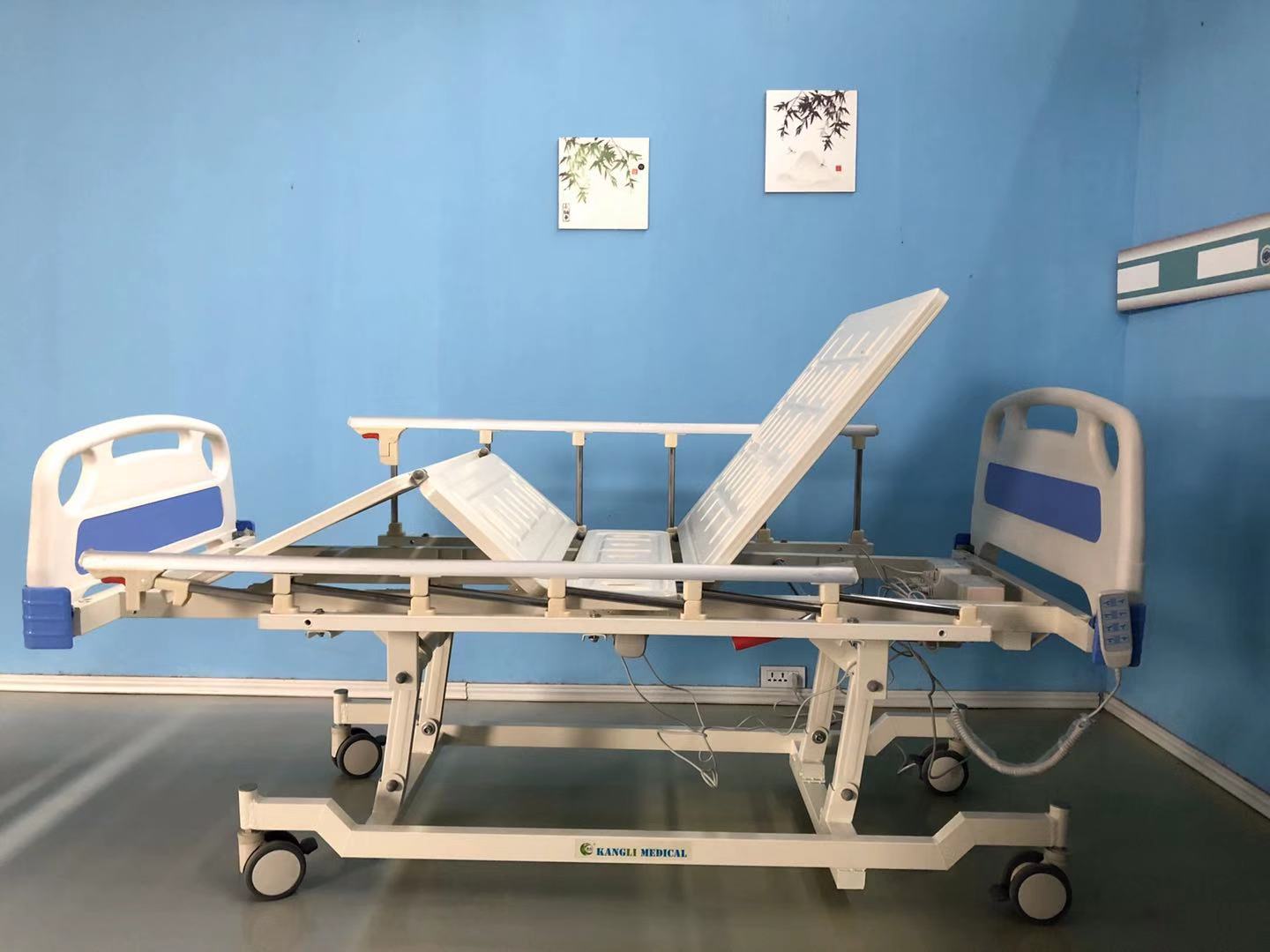 Ultra low hospital bed that lowers to the floor
High low hospital bed full electric height adjustment
Adjustable hospital bed back and knee up adjustment position
adjustable bed hospital electric back and knee down position adjustment
Electric hospital bed CPR release manual operation